Bellows Pressure Gauge Full Stainless Steel SS316L -50 To 50 mbar is a specific type of pressure measuring instrument designed for accurately monitoring pressure levels within a specific range using a bellows mechanism. Here's a breakdown of its key features and characteristics:
1. Gauge Type: This is a pressure gauge that utilizes a bellows mechanism for pressure measurement. Bellows are flexible, accordion-like structures that expand or contract based on changes in pressure, providing an accurate measurement of pressure.
2. Material: The gauge is constructed using full stainless steel SS316L. SS316L is a grade of stainless steel that offers high corrosion resistance, making it suitable for applications involving exposure to various environments.
3. Pressure Range: The gauge is calibrated to measure pressure within a range of -50 to 50 millibars (mbar). This range is ideal for applications where precise measurement of very low pressures is required.
4. Applications:
- Low-Pressure Systems: Measuring pressure in systems with extremely low pressure levels, such as vacuum applications or delicate processes.
- Laboratory Settings: Monitoring pressure in scientific experiments and research requiring precise low-pressure control.
- Industrial Processes: Measuring low pressures in industrial applications that demand accuracy and sensitivity.
Benefits:
- Bellows Mechanism: The bellows mechanism provides high accuracy in measuring low pressures, making it suitable for applications where sensitivity is crucial.
- Stainless Steel Construction: SS316L stainless steel offers corrosion resistance and durability, ensuring the gauge can withstand various environments.
- Low-Pressure Range: The -50 to 50 mbar range caters to applications requiring accurate measurement of very low pressures.
Considerations:
- Pressure Units: Confirm that the gauge's pressure units (mbar, psi, kPa, etc.) match your application's requirements.
- Environmental Compatibility: Verify that the stainless steel construction is compatible with the conditions of your application.
- Calibration: Regular calibration is important to maintain the accuracy of pressure readings.
In summary, a "Bellows Pressure Gauge Full Stainless Steel SS316L -50 To 50 mbar" is a specialized instrument designed for precise measurement of low pressures using a bellows mechanism. Its stainless steel construction, low-pressure range, and high accuracy make it suitable for various applications demanding accurate low-pressure monitoring.
Product Parameter
Dial Size
100mm

Case material

Stainless steel

Wetted parts

Stainless steel

Mount

Radial
Connection

1/2 PT, NPT, G... M20*1.5

Custom options

Pressure range
Dial plate
Other process connection thread
Surface mounting flange
Mounting bracket
Share
View full details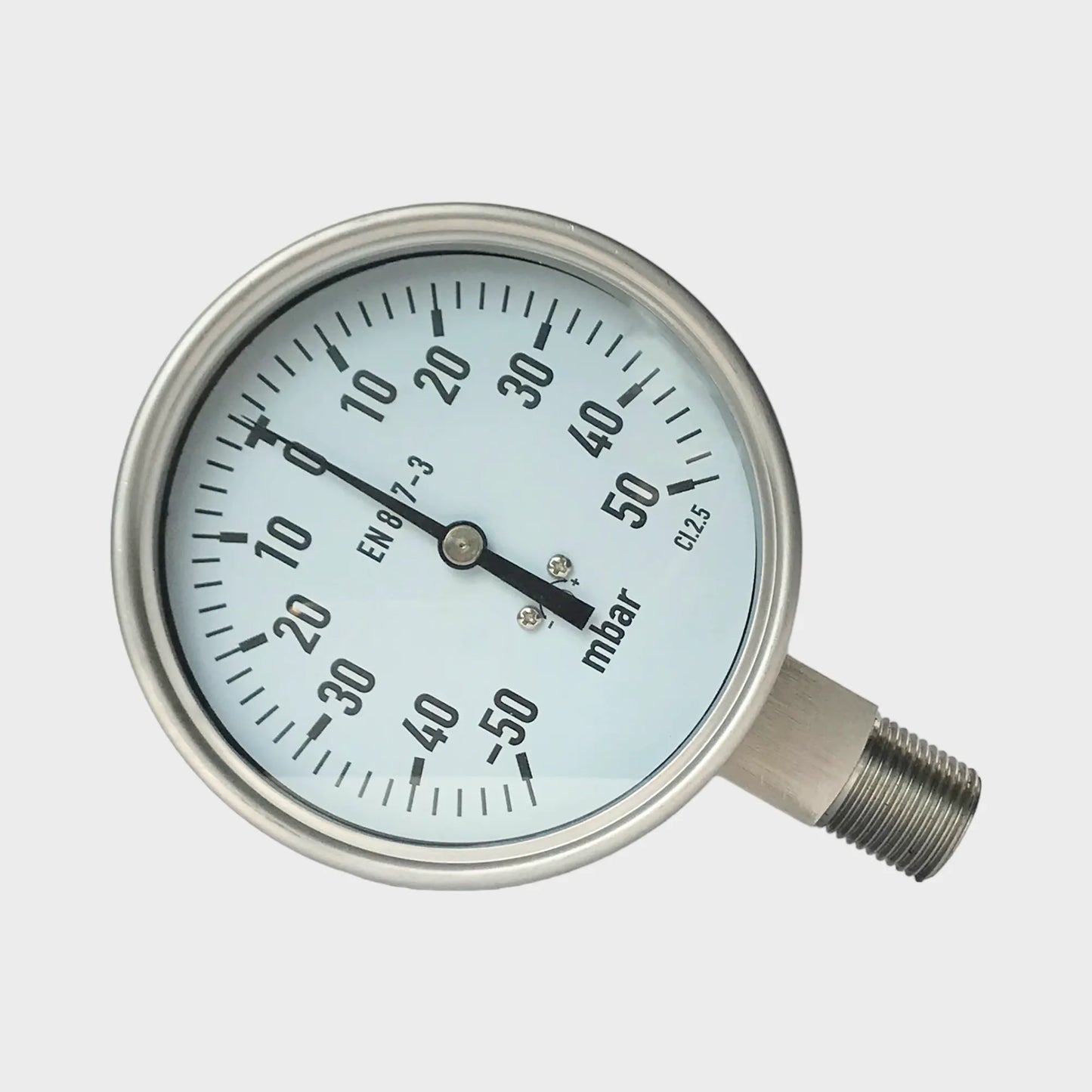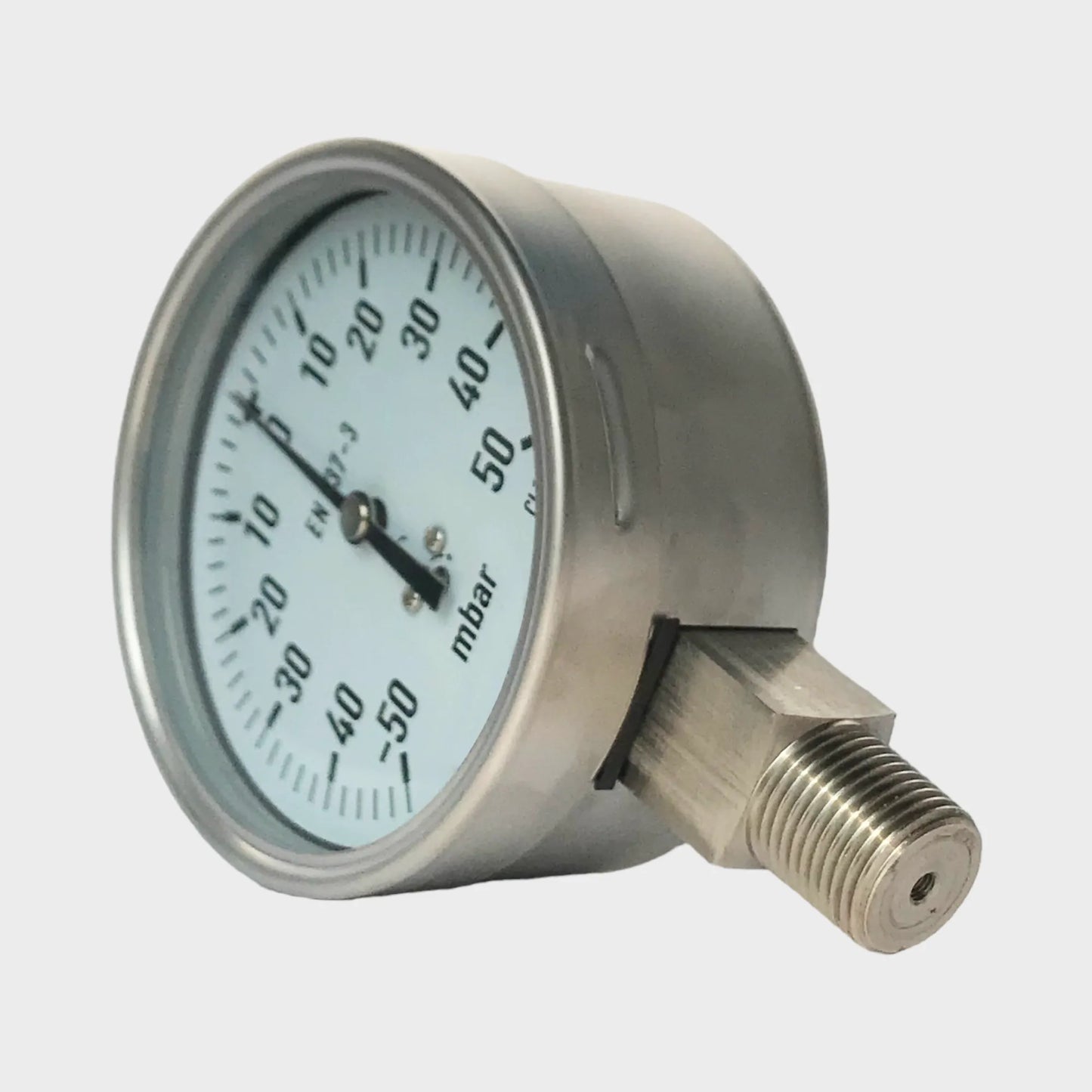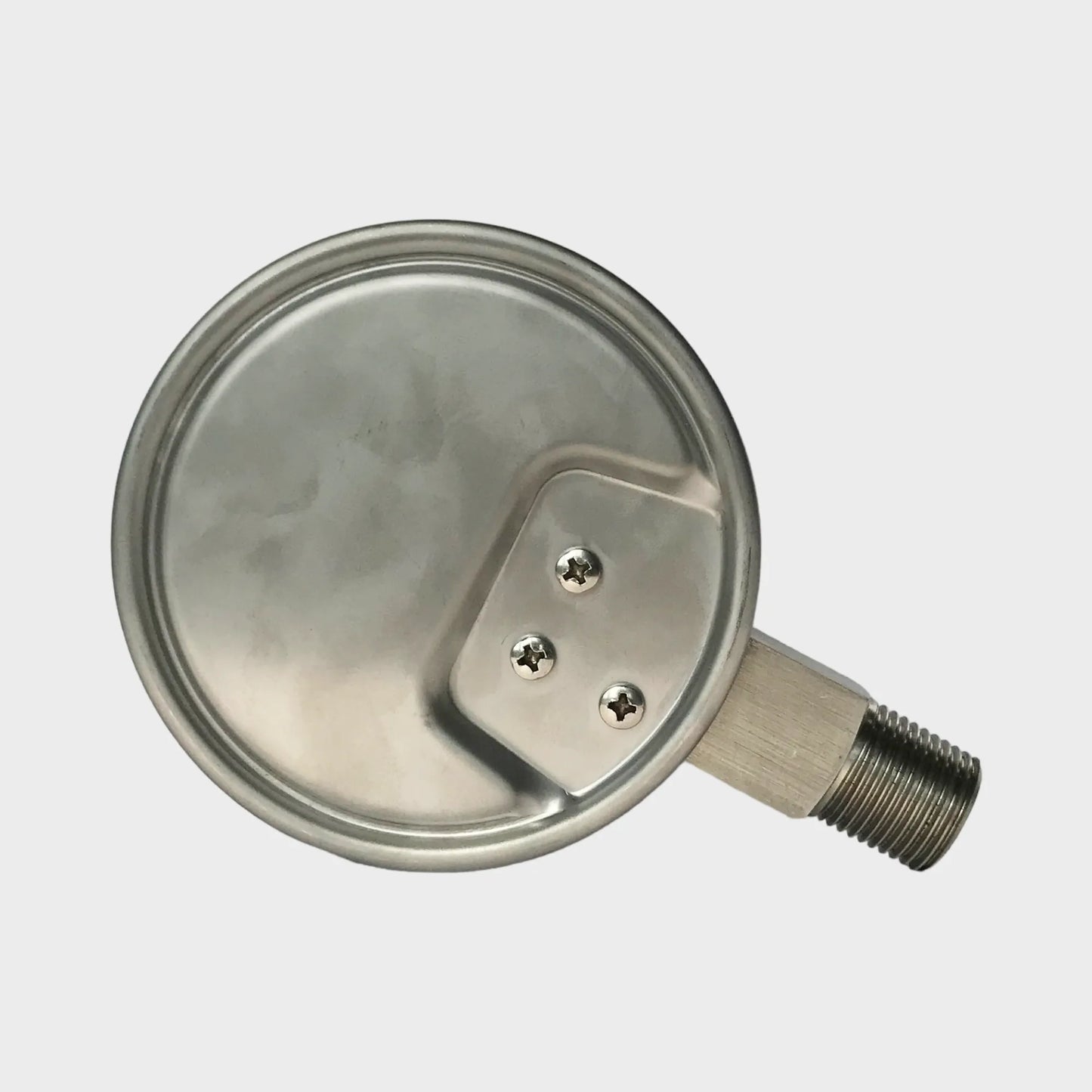 Applications
Low pressure gauge for applications in a controlled environment
Low pressure pneumatic systems
Ideal for measuring pressure, vacuum in medical, environmental, and laboratory applications for content and filter monitoring
For gaseous, dry and non-aggresive media
Special features

Front zero adjustment

Special connections on request

Scale ranges from 0/10 InWC (25 mbar)

Payment & Shipping Terms

MOQ: 100 Pieces

Price: To be confirmed

Delivery Time: 3~5 weeks

Payment Term: T/T