A Diaphragm Seal Type Pressure Gauge with Flange Mount and Stainless Steel Material is a specialized pressure measurement instrument designed to withstand harsh and corrosive environments. This type of gauge is ideal for applications where the process medium is aggressive or poses a risk of contamination or damage to the gauge. Here are the key features and benefits of this type of pressure gauge:
Diaphragm Seal: The diaphragm seal is a protective barrier that isolates the pressure-sensing element from the process medium. It prevents direct contact between the medium and the gauge, ensuring the gauge remains uncontaminated and undamaged. This is crucial in situations where the process medium is corrosive or could damage the gauge.
Flange Mount: The flange mount design allows for secure and stable installation. It often includes bolt holes for mounting the gauge to a pipe or vessel, ensuring that it remains in place even in high-vibration environments.
Stainless Steel Material: The use of stainless steel (commonly SS304 or SS316) for the gauge's construction provides excellent resistance to corrosion, making it suitable for challenging industrial environments where exposure to moisture, chemicals, or corrosive substances is common.
Versatile Applications: Diaphragm seal type pressure gauges are used in a wide range of applications, including the chemical industry, petrochemical industry, pharmaceuticals, and other environments where process media can be aggressive or corrosive.
Precision Measurement: These gauges are engineered for accuracy, providing reliable and precise pressure readings even in demanding conditions.
In summary, a Diaphragm Seal Type Pressure Gauge with Flange Mount and Stainless Steel Material is an essential tool for maintaining accurate pressure measurements in challenging industrial settings where protection from aggressive or corrosive media is critical.
Dial Size
63mm

Case material

Stainless steel

Wetted parts

Stainless steel

Mount

Lower

Connection

1/4 PT, NPT, G... M14*1.5

Liquid

Glycerin, Silicone oil, None

Custom options

Pressure range
Dial plate
Other process connection thread
Surface mounting flange
Mounting bracket
Share
View full details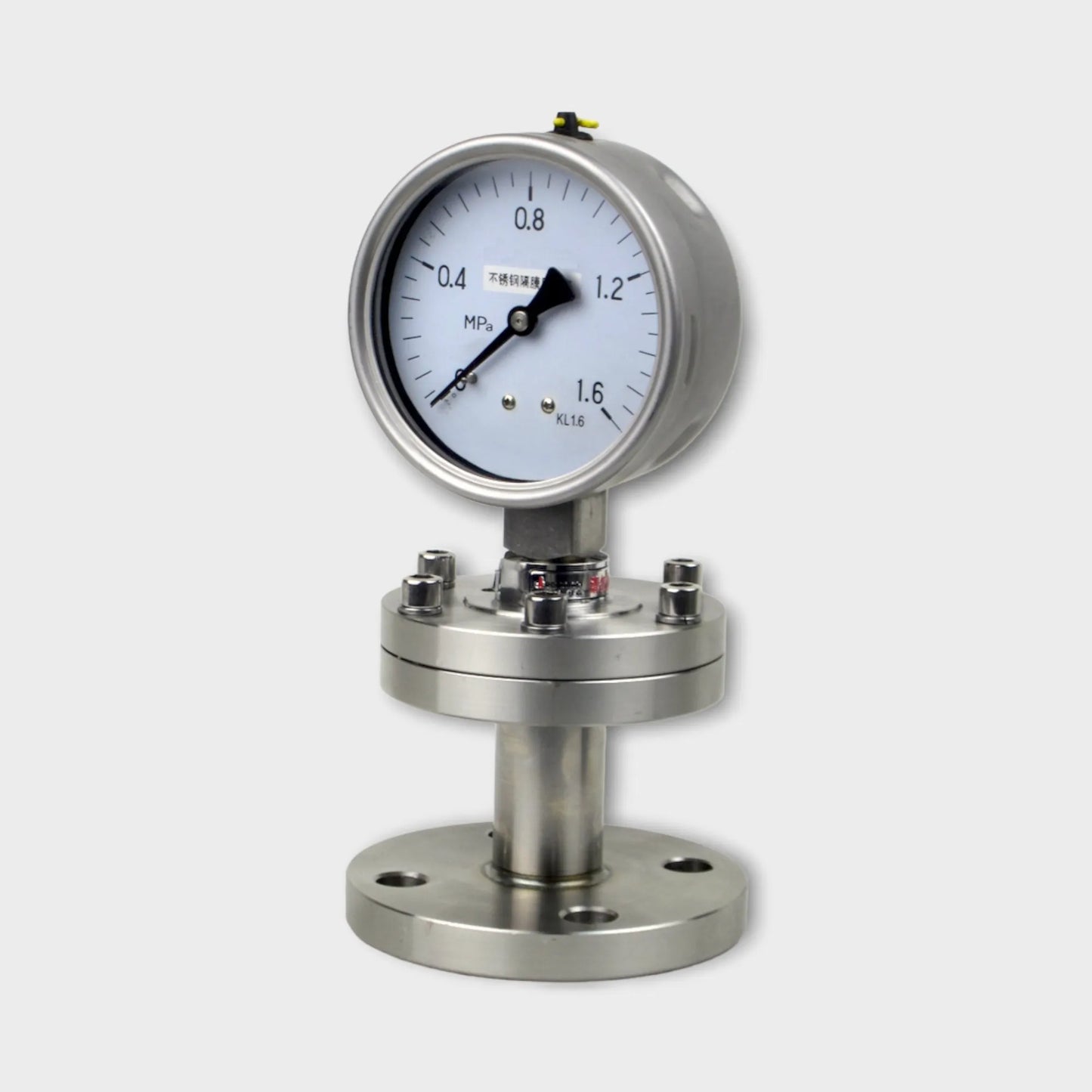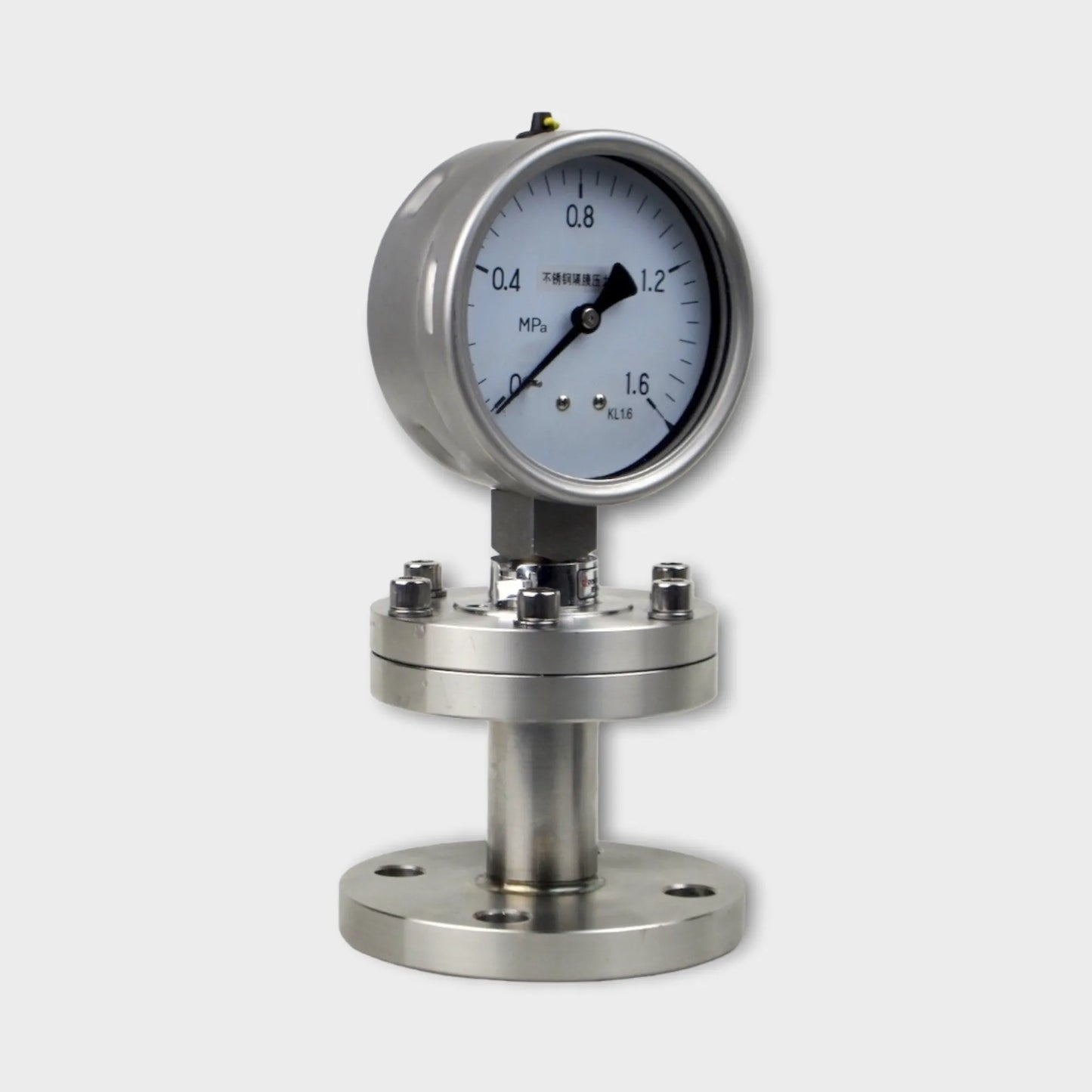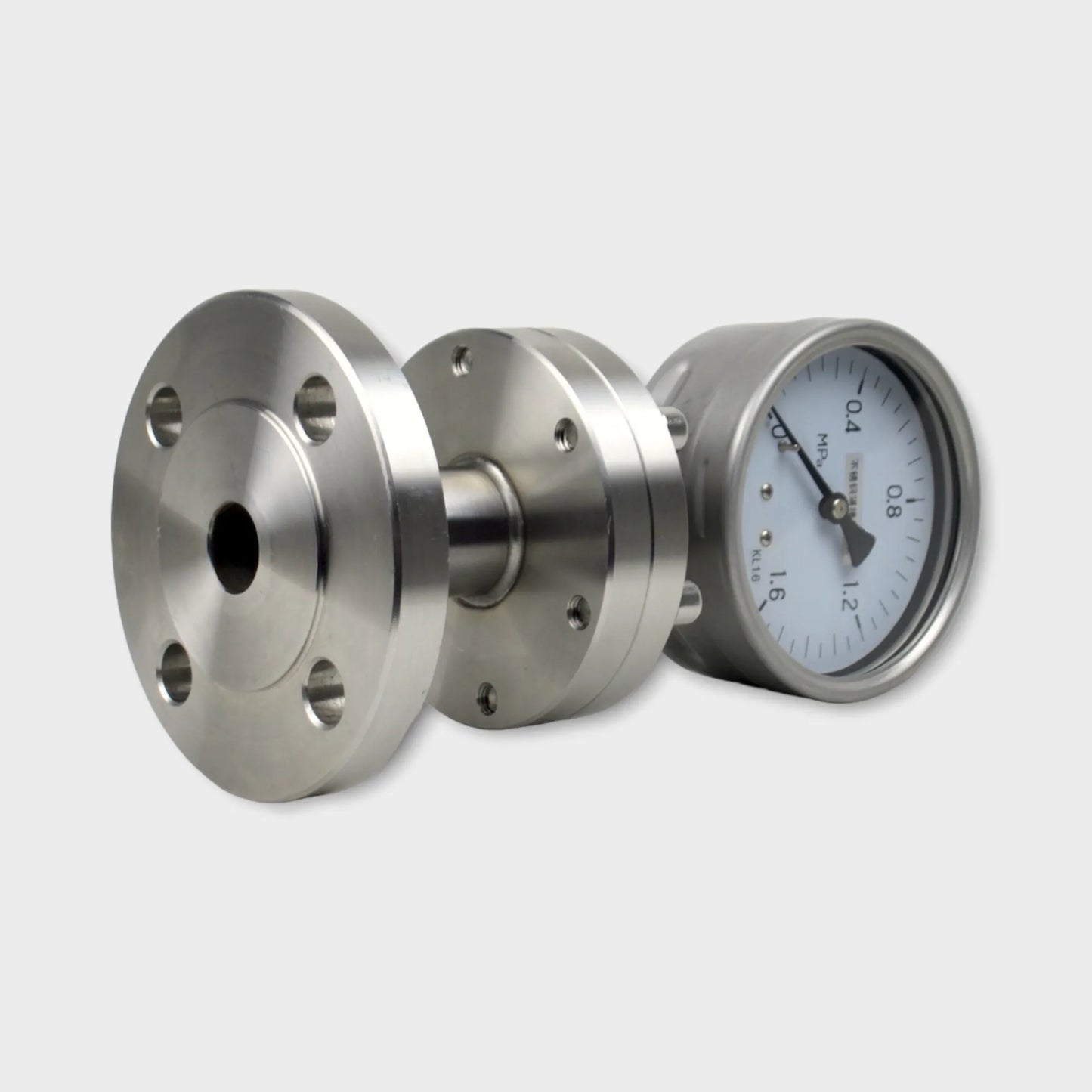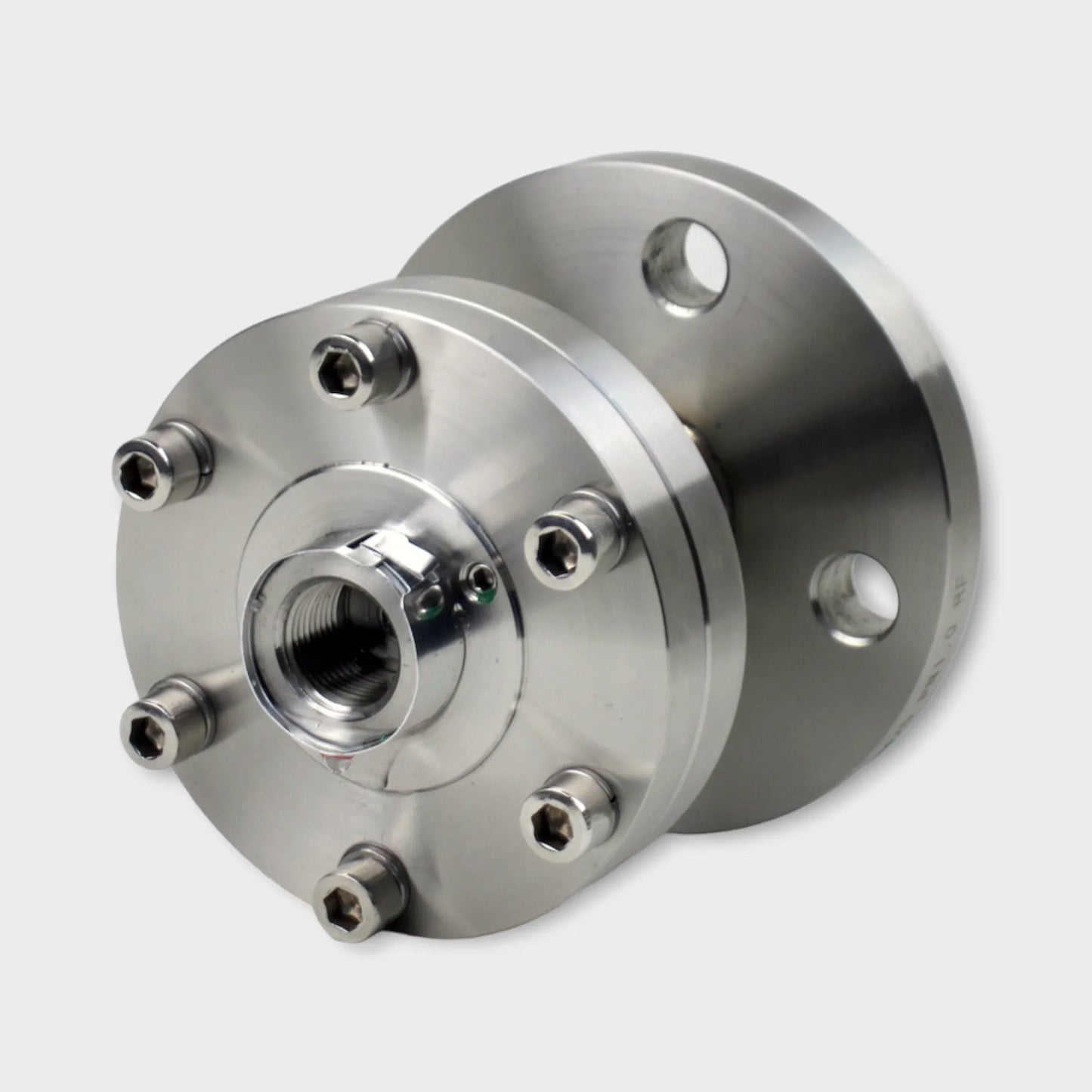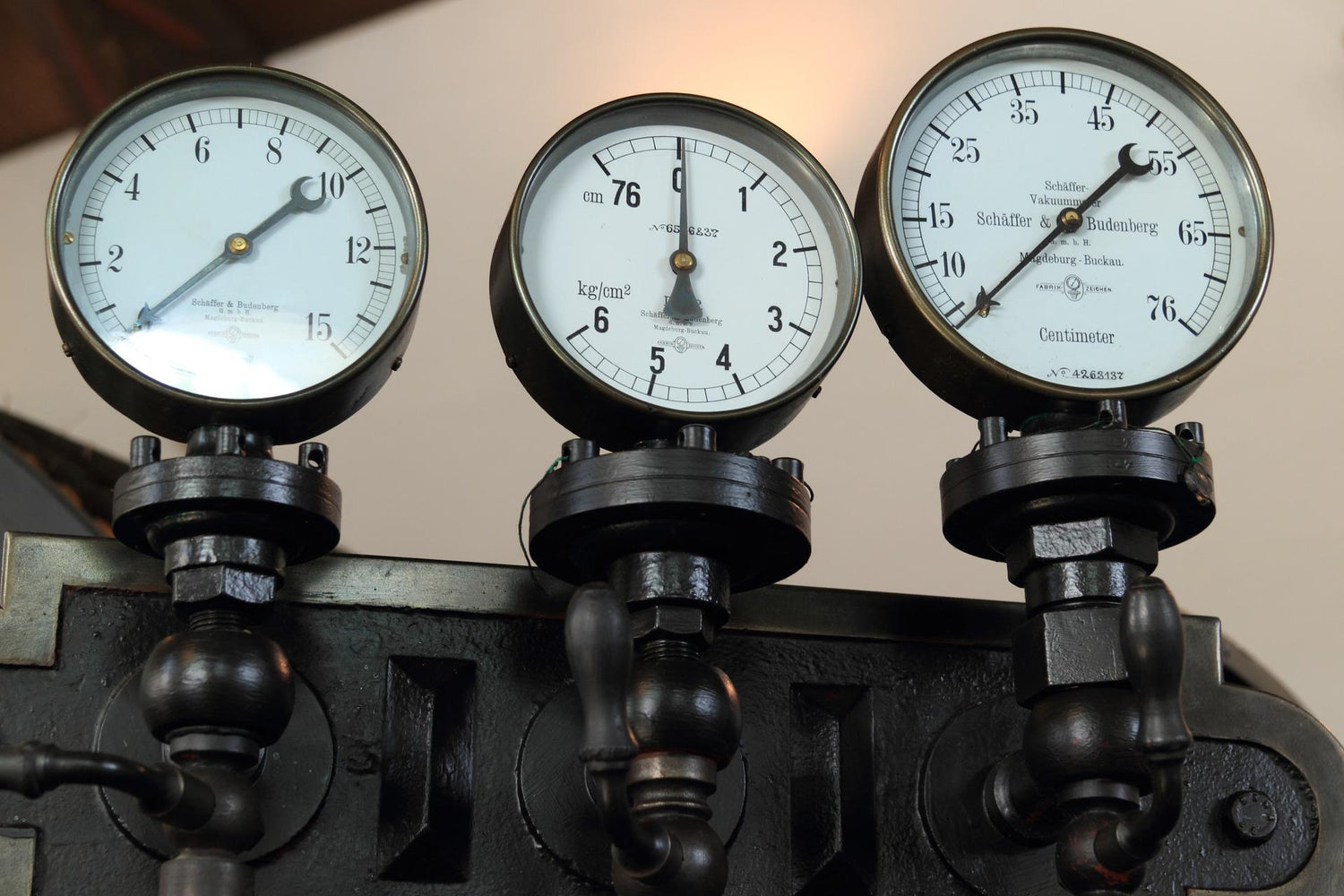 Applications
Injection Molding Device, hydraulic
Machine building and plant construction
Heating and air-conditioning technology
Fire sprinkler systems, compressor
Special features

Design per EN 837-1

Nominal size 40, 50, 63, 80, 100 and 160

Scale ranges up to 0 ... 1000 bar

Payment & Shipping Terms

MOQ: 100 Pieces

Price: To be confirmed

Delivery Time: 3~5 weeks

Payment Term: T/T