Introducing our Differential Pressure Gauge - Magnehelic Type, an industry-leading instrument designed for precise measurement of differential pressure across various applications:
Product Description:
Our Differential Pressure Gauge - Magnehelic Type is a highly versatile and reliable instrument that excels in monitoring differential pressures in critical environments. Whether you need to measure air flow in HVAC systems, clean room pressure, or filter performance, this gauge provides accurate and real-time readings with exceptional ease of use.
Key Features:
1. Magnehelic Technology: This gauge utilizes Magnehelic technology, a proven and trusted method for differential pressure measurement. The Magnehelic gauge operates on a simple, yet robust principle, ensuring accurate readings without the need for external power sources.
2. Precise Differential Pressure Measurement: Engineered for precision, our Magnehelic Differential Pressure Gauge offers precise measurements even in low-pressure conditions. This accuracy is crucial for maintaining the efficiency and performance of your systems.
3. Clear and Easy-to-Read Scale: The gauge features a large, easy-to-read scale with clear markings, allowing operators to quickly and accurately assess differential pressure levels. Its intuitive design simplifies the monitoring process.
4. Wide Pressure Range: This Magnehelic Type Differential Pressure Gauge covers a broad pressure range, making it suitable for a variety of applications, from residential HVAC systems to industrial clean rooms.
5. Robust Construction: Built to withstand challenging environments, the gauge boasts a durable construction that ensures longevity and reliability. Its robust design can endure the rigors of demanding industrial settings.
6. User-Friendly Design: The gauge is designed with user-friendliness in mind. It can be easily installed and calibrated, and its low-maintenance operation reduces the need for frequent adjustments.
7. Optional Accessories: We offer a range of optional accessories, including mounting kits and connection fittings, to facilitate seamless integration into your specific application.
8. Visual Monitoring: The gauge provides real-time, visual monitoring of differential pressure, allowing operators to quickly identify any deviations or issues in their systems.
9. Versatile Applications: Whether you require differential pressure measurement for HVAC systems, clean rooms, filter monitoring, or any other application, our Magnehelic Type Differential Pressure Gauge is adaptable to your needs.
In summary, our Differential Pressure Gauge - Magnehelic Type is a reliable and versatile instrument that excels in providing precise differential pressure measurements across a wide range of applications. Its proven technology, user-friendly design, and robust construction make it a trusted choice for professionals seeking accurate and dependable differential pressure monitoring. Trust in the quality and performance of our Magnehelic Differential Pressure Gauge to enhance the efficiency and safety of your systems.
Case Diameter
114mm
Housing

Die cast aluminum case and bezel gray coating

Window

Easy to reedy clear acrylic window

Scale Range
See details of range selection chart
Accuracy
Less than 125PA accuracy: 4%
Others range accuracy: 2.5%
Ambient Temperature

-7°C to +60°C

Pressure Limit
-68kPa to 100kPa
Process Connection
1/8" female NPT, duplicate high and low pressure taps: one pair side and one pair back
Mounting Position
Vertical
Mounting
Surface mounting. Flush or panel mounting, Pipe mounting
Net Weight

486g

Standard Accessories

Two 1/8"NPT plugs for duplicate pressure taps, two 1/8" pipe thread to rubber tubing adapter, and three flush mounting adapters with screws
Share
View full details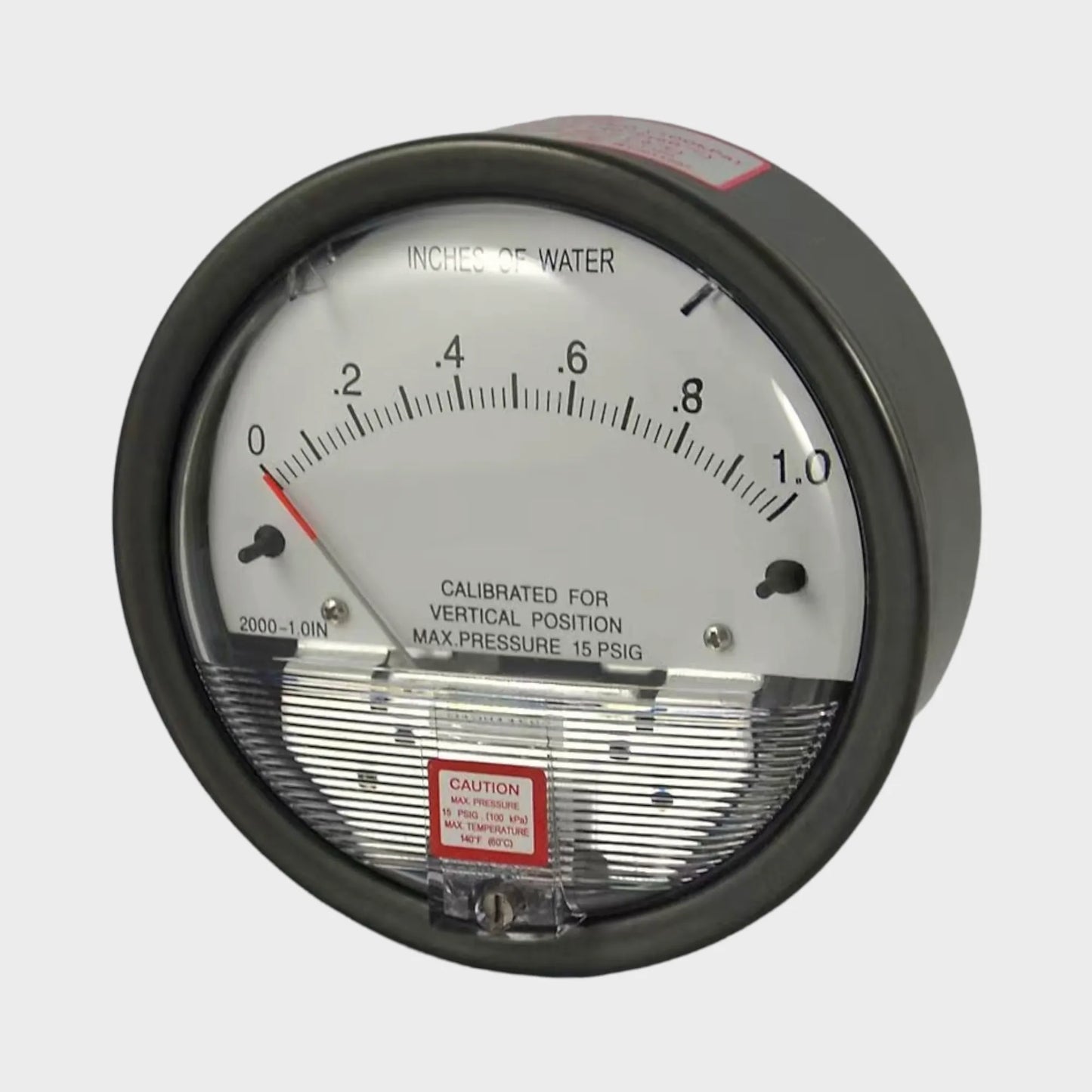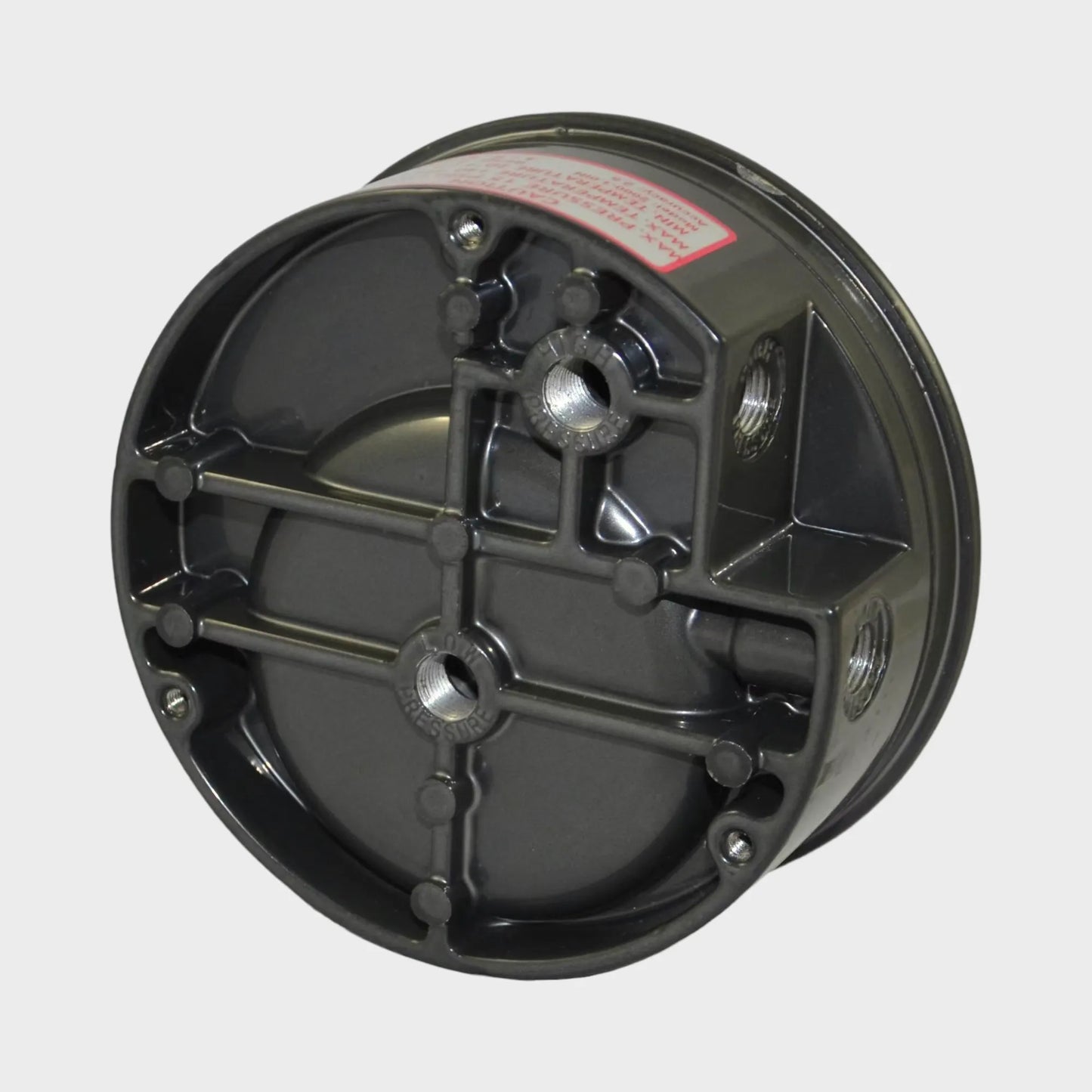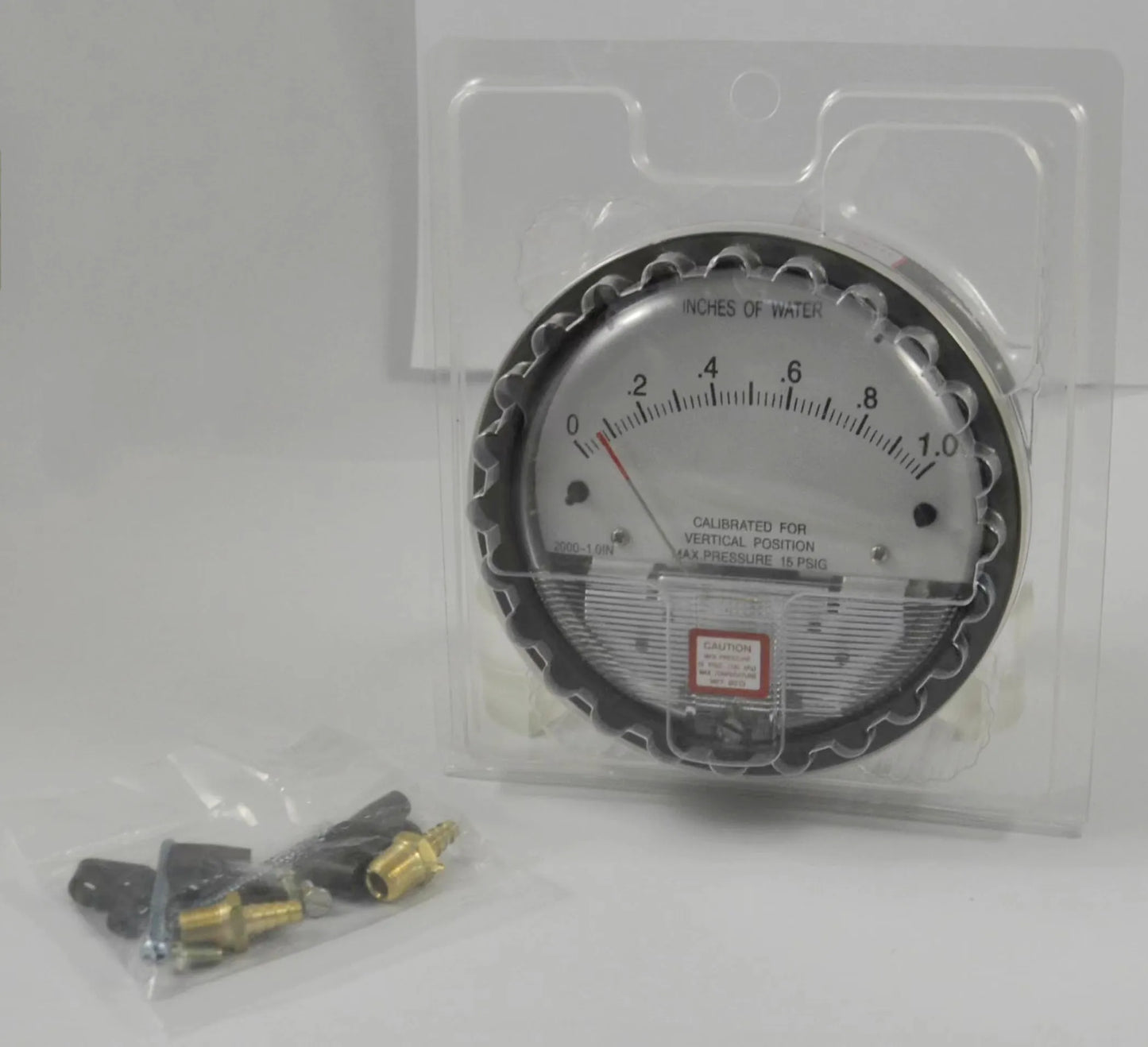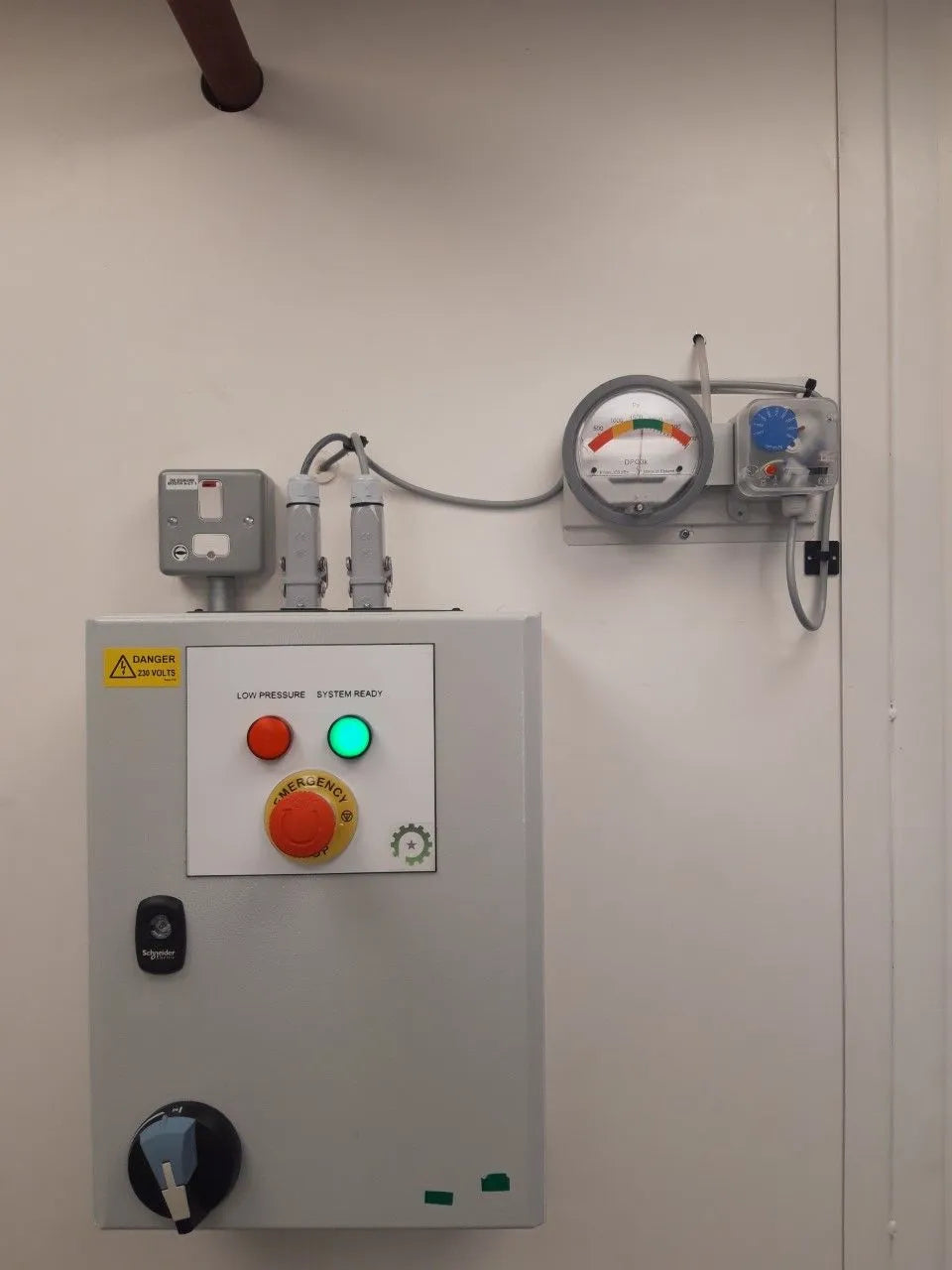 Applications Of Differential Pressure Gauge
The DP gauges are designed to measure positive, negative (vacuum) or differential pressure of low air and non-corrosive gases with a competitive price. They are widely used for filter condition checks, HVAC control and the measurement of fan and blower pressures, air velocity, and pressure drop across orifice plates applications, as well as other applications in the pharmaceutical and semiconductor manufacturing industry.
Features of Differential Pressure Gauge
Magnet-helix indicating mechanism ideal for low DP measurement
A wide selection of ranges from 0 to 30Pa up to 30kPa
Inertia-free, drift-free pointer indication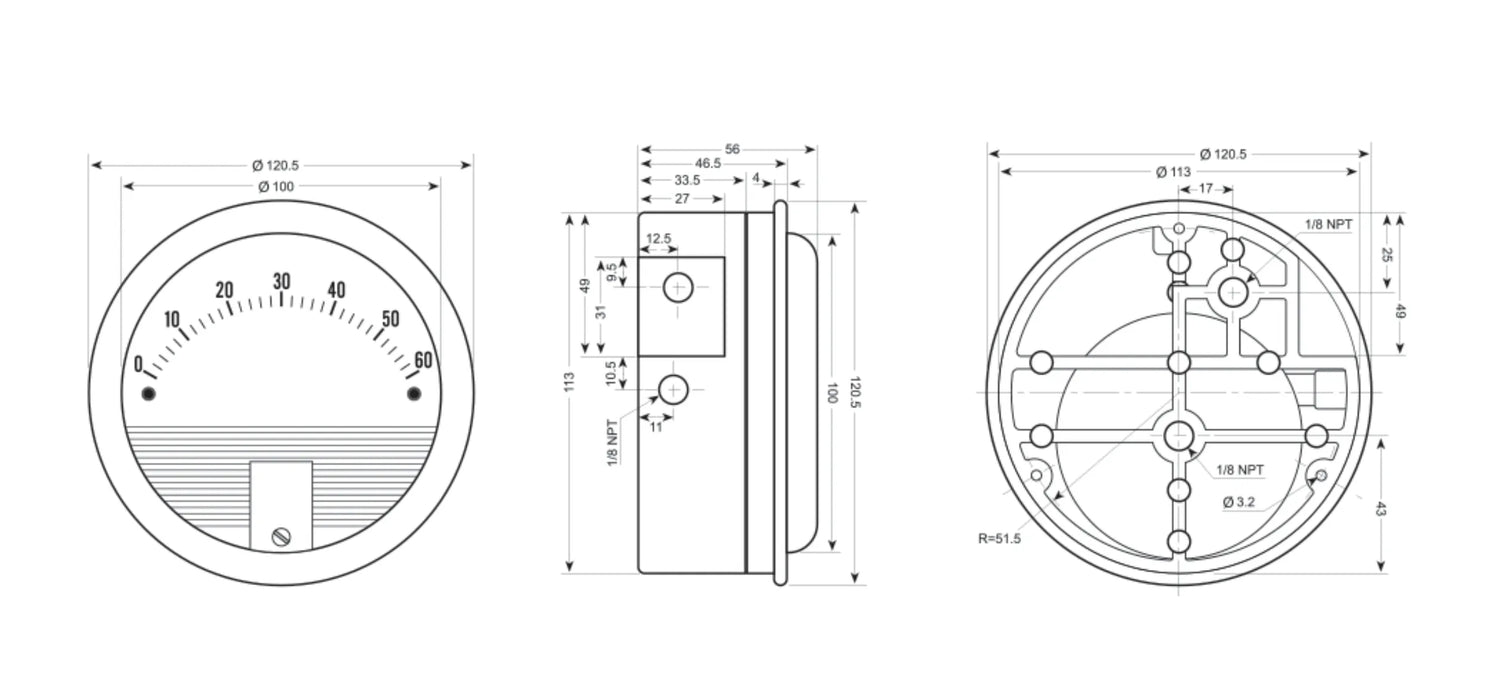 Dimension
Drawing of Magnetic Differential Pressure Gauge