Introducing our Electric Contact Pressure Gauge with a Stainless Steel Case and Copper Alloy Bourdon Tube, a high-performance instrument designed to provide accurate pressure measurements and the added functionality of electric contact points for precise control and monitoring:
Product Description:
Our Electric Contact Pressure Gauge, encased in robust stainless steel with a copper alloy Bourdon tube, represents the ideal solution for applications requiring precise pressure measurement and the capability to trigger electrical contacts at predefined pressure levels. This gauge is engineered for accuracy, durability, and control.
Key Features:
1. Stainless Steel Case: The gauge's stainless steel case offers exceptional corrosion resistance and durability, ensuring it can withstand harsh industrial environments while maintaining its integrity and appearance.
2. Copper Alloy Bourdon Tube: The copper alloy Bourdon tube is renowned for its responsiveness and accuracy in pressure measurement. It guarantees precise readings across a wide range of pressures.
3. Electric Contact Points: The inclusion of electric contact points allows you to set specific pressure thresholds. When the pressure reaches or exceeds these set points, the electrical contacts are activated, enabling you to automate alarms, controls, or safety systems.
4. Precision Pressure Measurement: Our Electric Contact Pressure Gauge delivers high-precision pressure measurements, crucial for maintaining safety and efficiency in various industrial processes.
5. Customizable Set Points: You can customize the pressure set points to align with your exact requirements, allowing for tailored control and automation in response to pressure changes.
6. Easy-to-Read Display: The gauge features a clear and easy-to-read display that provides real-time pressure readings, facilitating quick and efficient monitoring of pressure conditions.
7. Versatile Applications: Whether you need pressure monitoring in hydraulic systems, gas pipelines, chemical processing, or any other critical application, this gauge is versatile enough to adapt to your specific needs.
8. Durable and Low Maintenance: The combination of a stainless steel case and copper alloy Bourdon tube ensures resistance to corrosion and wear, reducing the need for frequent maintenance.
9. Electrical Compatibility: The electric contacts are designed for seamless integration into your electrical control systems, making it easier to implement alarms, shut-offs, or other safety measures based on pressure readings.
10. Compliance and Certification: Our Electric Contact Pressure Gauge complies with industry standards and can be certified for compliance with specific regulations or standards as needed.
In summary, our Electric Contact Pressure Gauge with a Stainless Steel Case and Copper Alloy Bourdon Tube is a high-quality instrument designed to meet the demands of precision pressure measurement and control in industrial applications. It empowers you to monitor, control, and automate critical processes based on precise pressure measurements while ensuring durability and reliability. Trust in the quality and performance of our Electric Contact Pressure Gauge to enhance the safety and efficiency of your operations.
Dial Size
150mm

Case material

Stainless steel

Wetted parts

Copper alloy

Mount

Radial
Connection

1/2 PT, NPT, G... M20*1.5

Liquid

Glycerin, Silicone oil, None

Custom options

Pressure range
Dial plate
Other process connection thread
Surface mounting flange
Mounting bracket
Share
View full details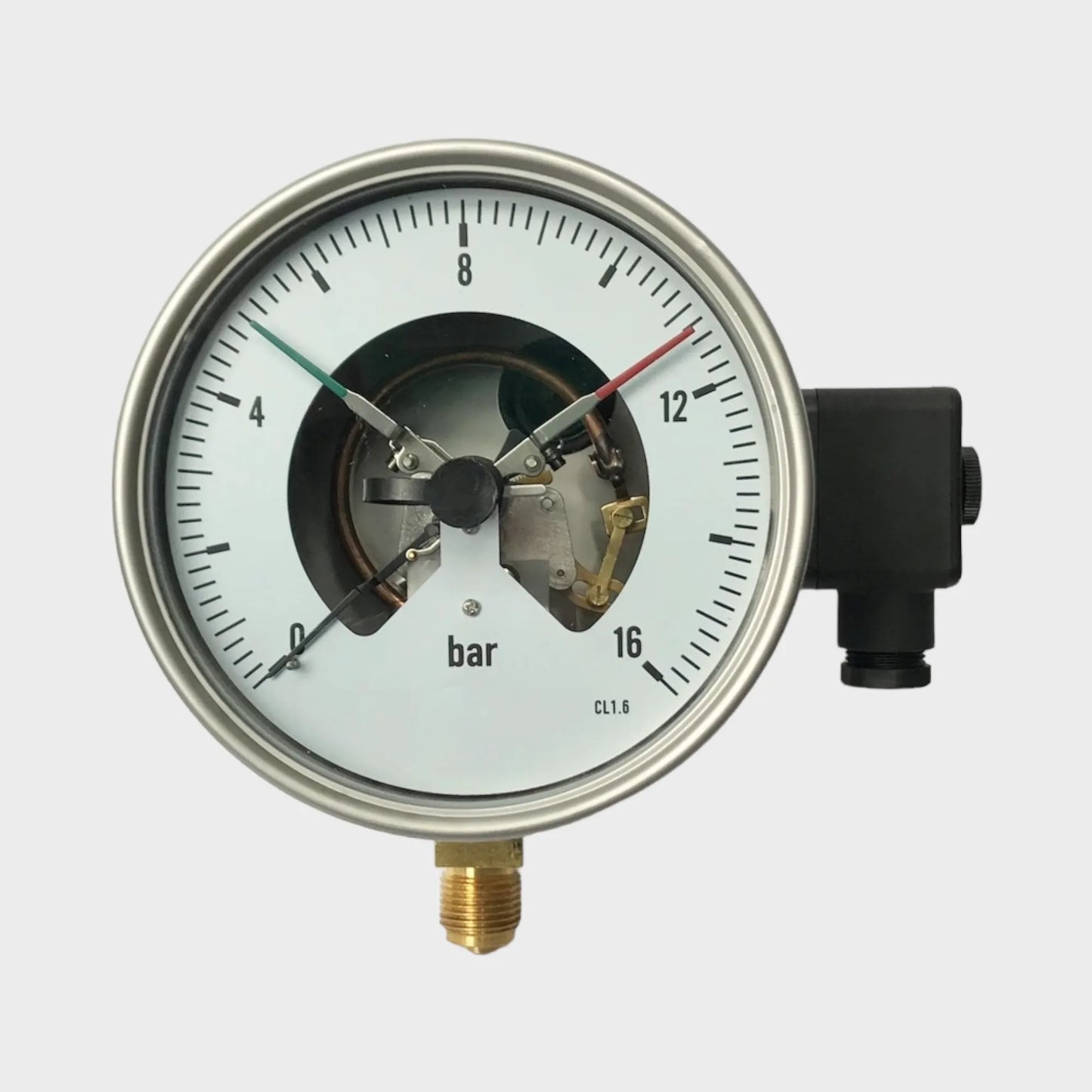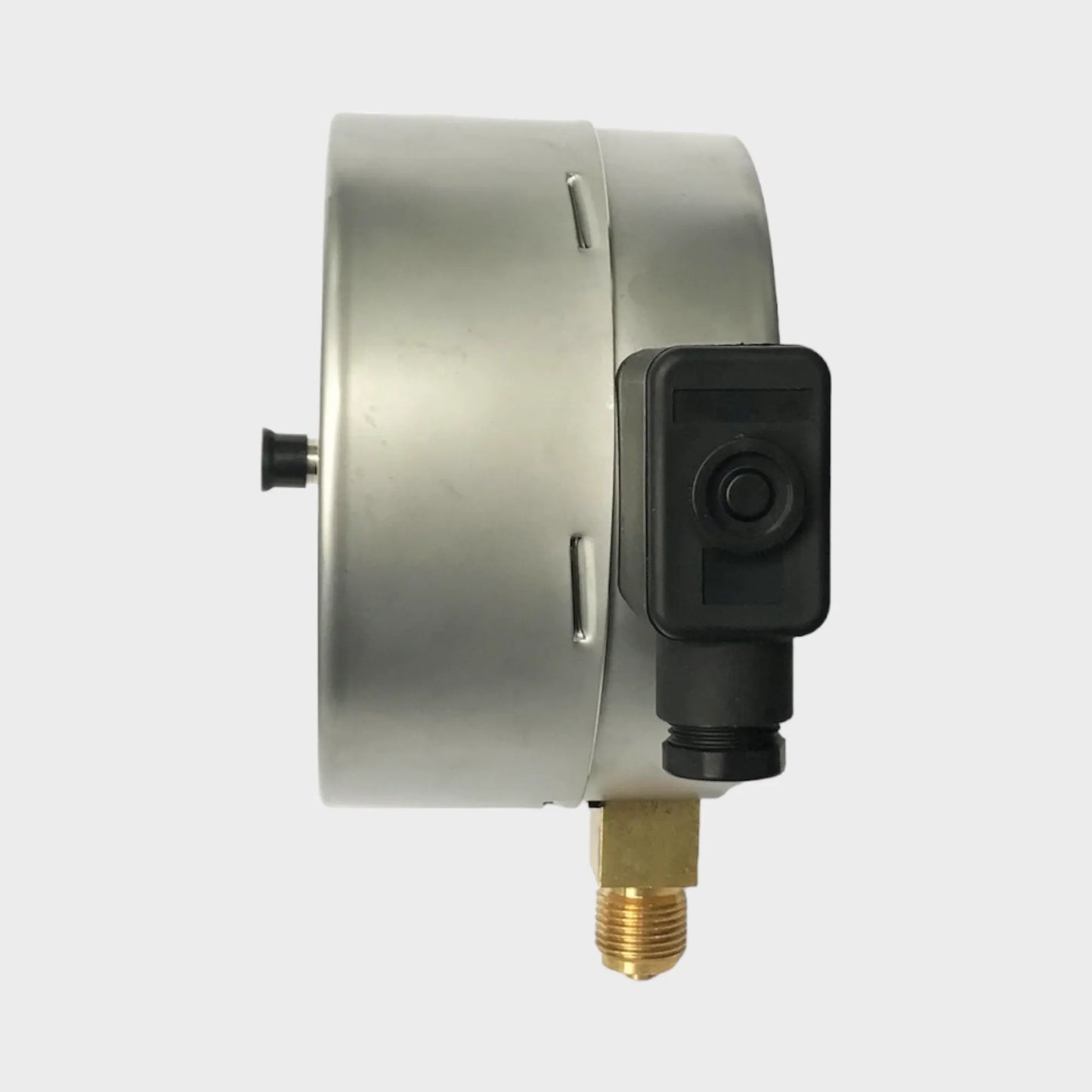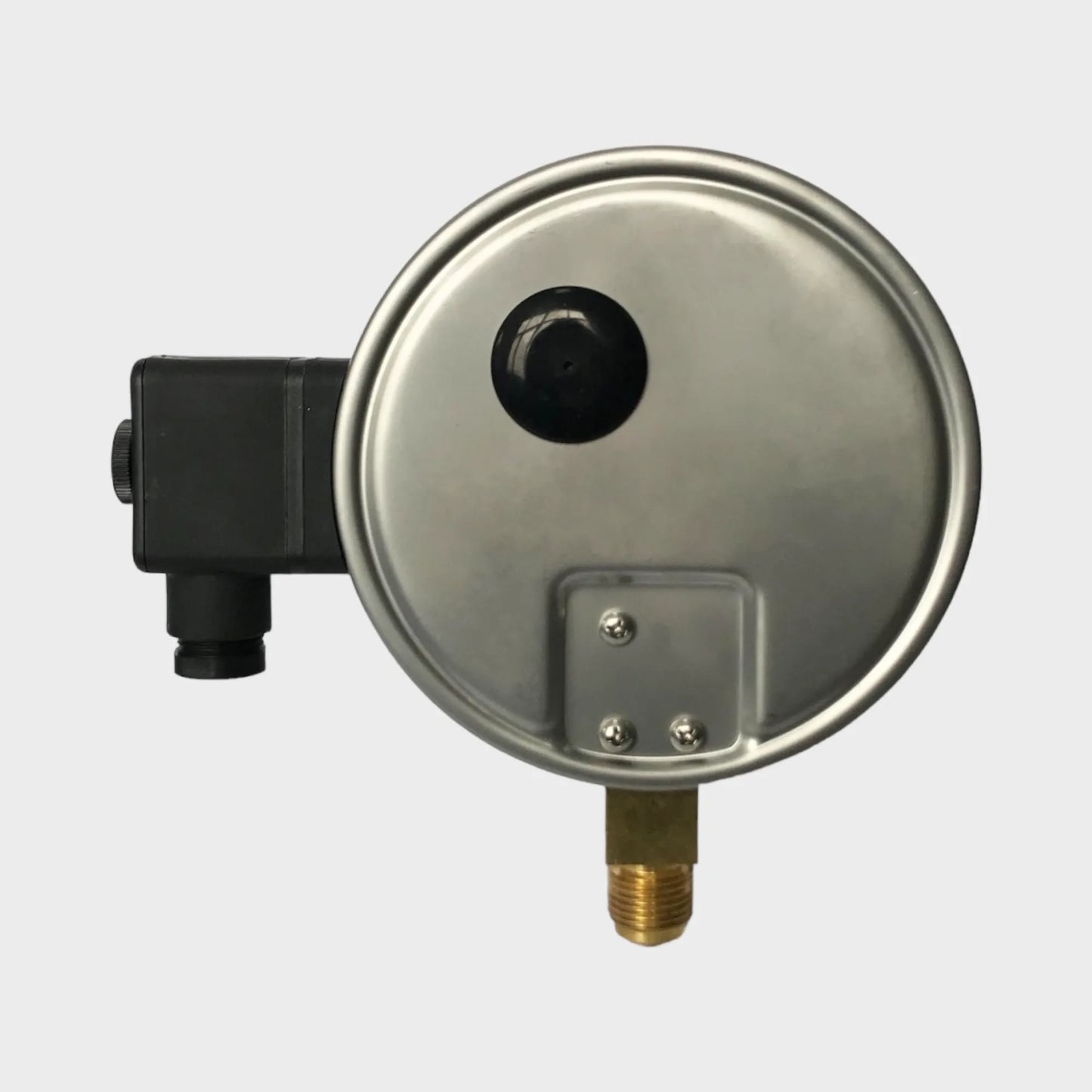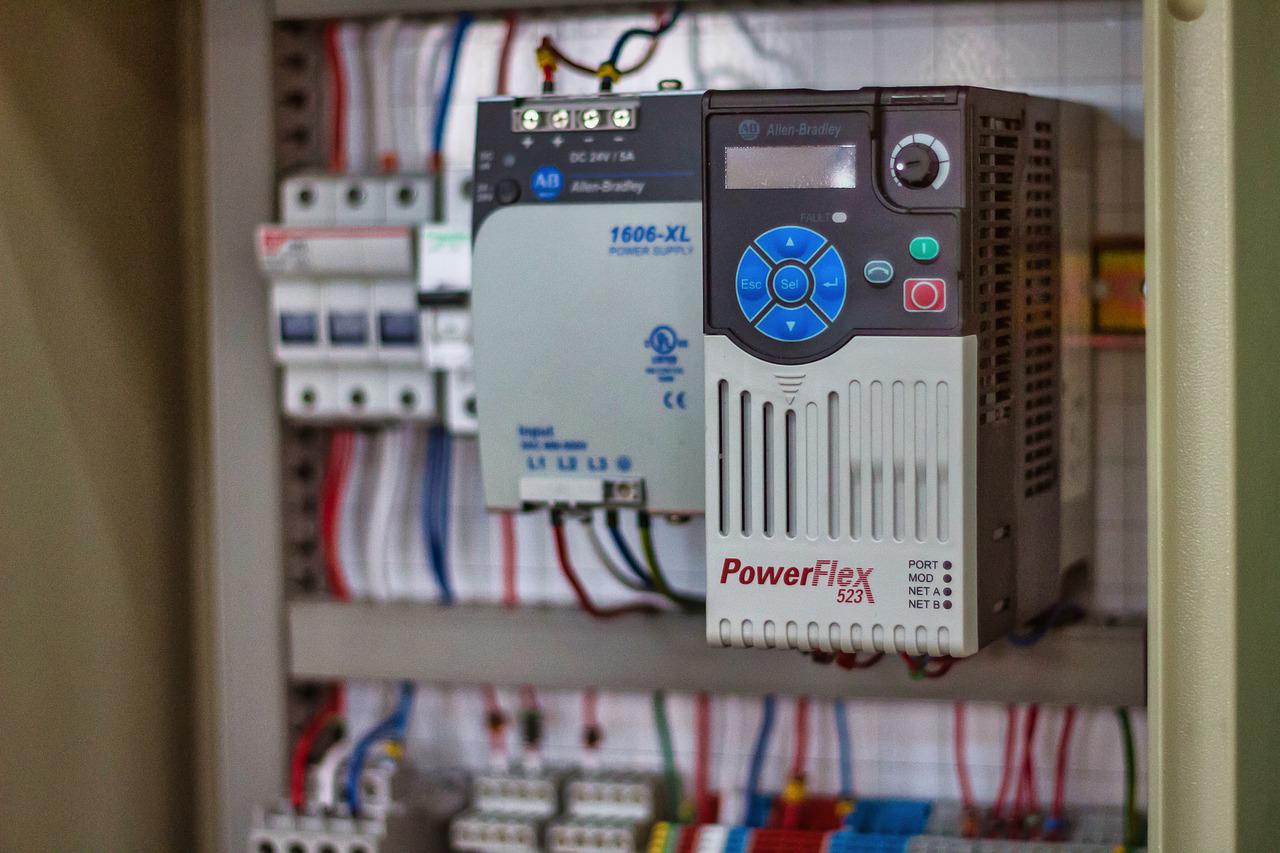 Applications
Control and regulation of industrial processes
Monitoring of plants and switching of circuits
For gaseous and liquid media that are not highly viscous or crystallising and will not attack copper alloy parts
Special features

High reliability and long service life

Up to 4 switch contacts per instrument

Instruments with electronic contacts for PLC applications

Contact gauges comply with DIN 16085

Payment & Shipping Terms

MOQ: 20 Pieces

Price: To be confirmed

Delivery Time: 3~5 weeks

Payment Term: T/T