100mm Dial Glycerin Filled Pressure Gauge 1600 kPa – a pinnacle of accuracy and performance in pressure measurement. Crafted to excel in demanding industrial environments, this gauge combines advanced technology with a glycerin-filled design for unparalleled precision and durability.
With its generous 100mm dial, this gauge offers effortless readability, ensuring that pressure readings are easily accessible even in challenging work conditions. The clear, prominent display empowers operators with quick insights into pressure values, enabling informed decision-making.
Operating within a range of up to 1600 kPa, this pressure gauge excels in accurately capturing pressures across a diverse spectrum. Whether your application involves low-pressure precision tasks or tasks demanding higher pressure thresholds, this gauge is engineered to deliver precise measurements you can rely on.
What sets this gauge apart is its glycerin-filled mechanism. The glycerin filling serves as a dampening medium that reduces the impact of vibrations and pulsations in the process media. This enhances the gauge's longevity and accuracy by stabilizing the pointer movement and reducing wear and tear. This feature is especially beneficial in scenarios where fluctuating pressure conditions are the norm.
Precision-engineered for durability and resilience, this gauge stands up to the challenges of industrial environments. Its construction marries cutting-edge technology with sturdy design, ensuring that you have a dependable tool that withstands the test of time.
Whether you're optimizing processes, maintaining quality control, or ensuring adherence to safety standards, the "100mm Dial Glycerin Filled Pressure Gauge 1600 kPa" is your reliable partner for accurate pressure measurement. Choose the confidence that comes with exceptional precision – choose this gauge for your pressure monitoring needs.
Dial Size
100mm

Case material

Stainless steel

Wetted parts

Brass

Mount

Lower
Connection

1/2 PT, NPT, G... M20*1.5

Liquid

Glycerin, Silicone oil

Custom options

Pressure range
Dial plate
Other process connection thread
Surface mounting flange
Mounting bracket
Share
View full details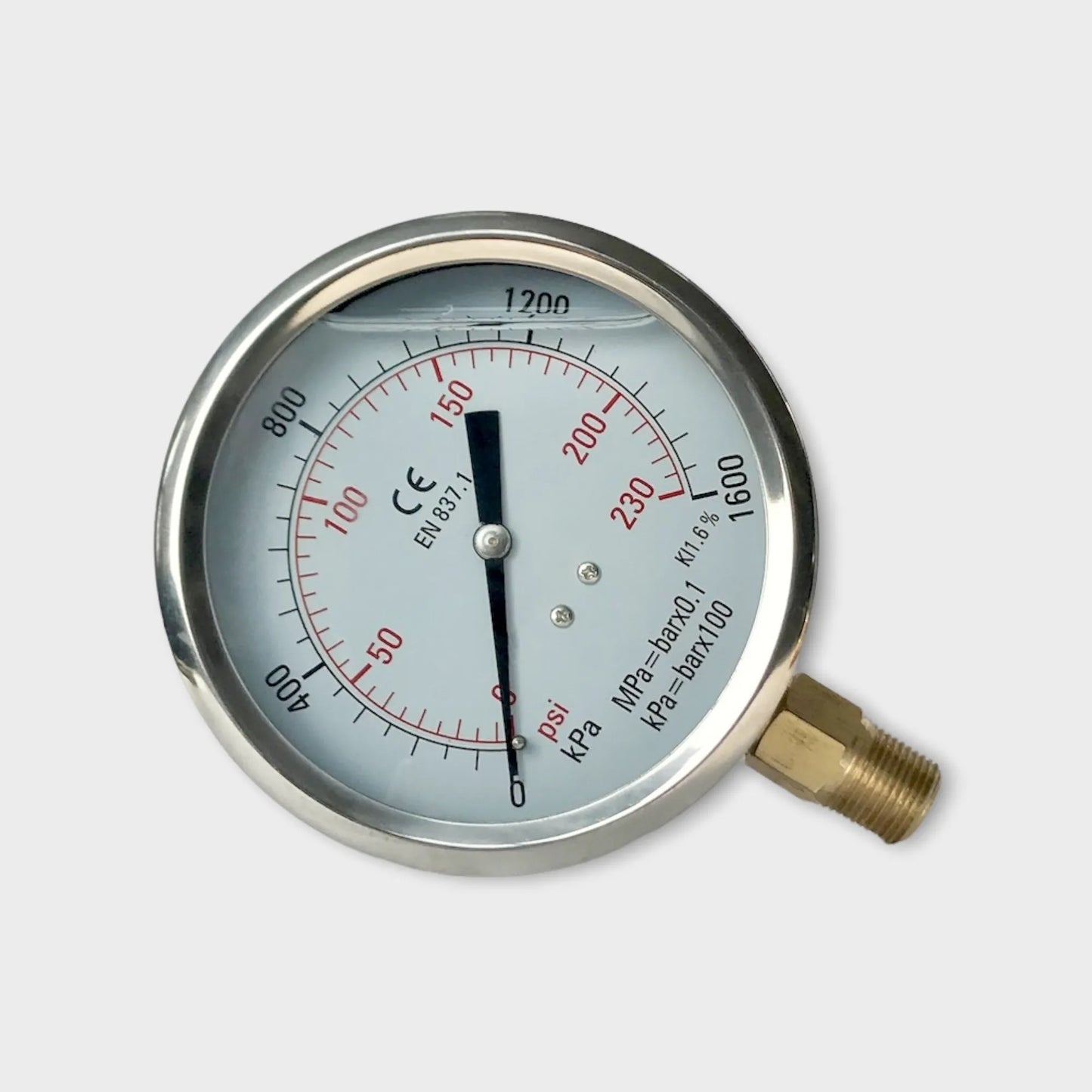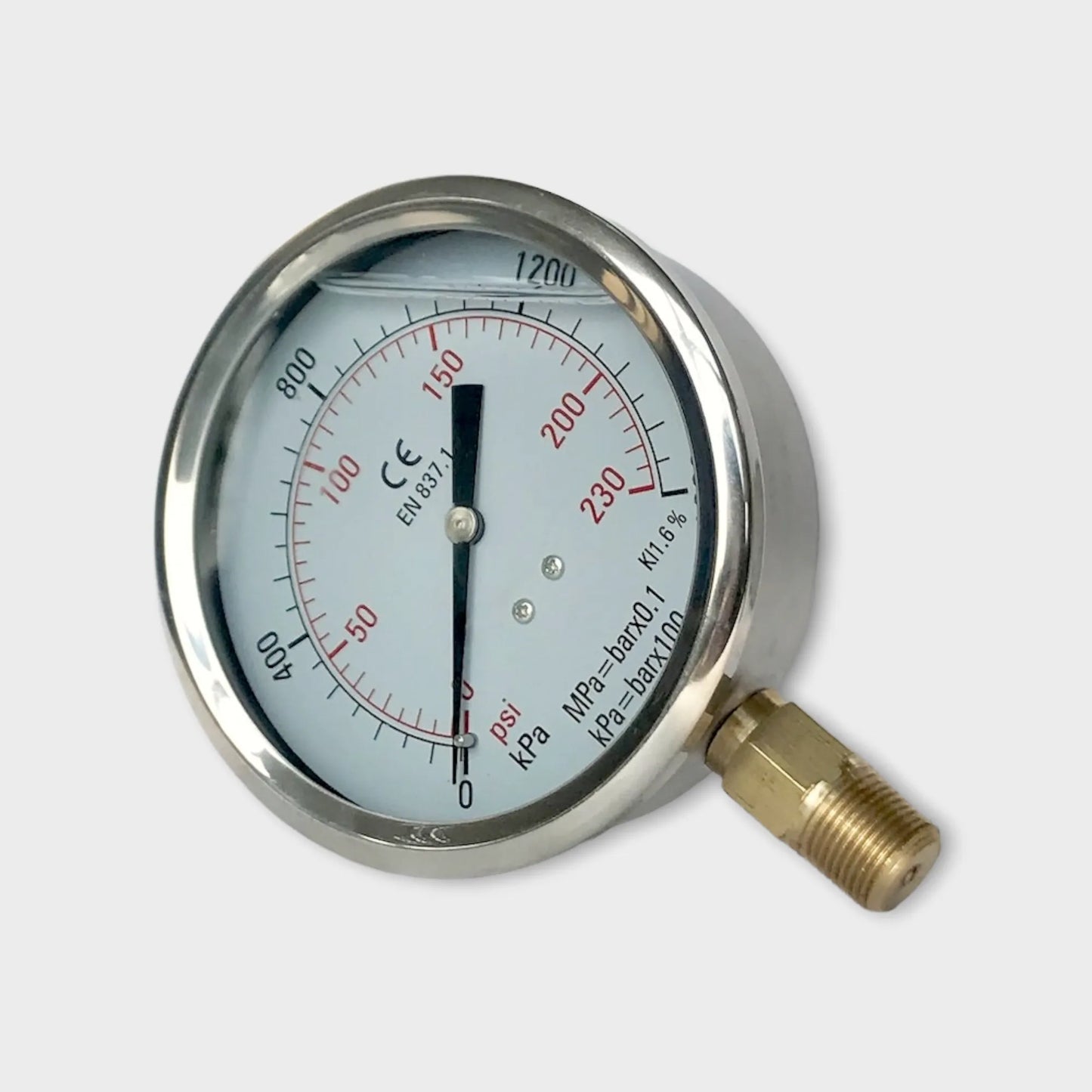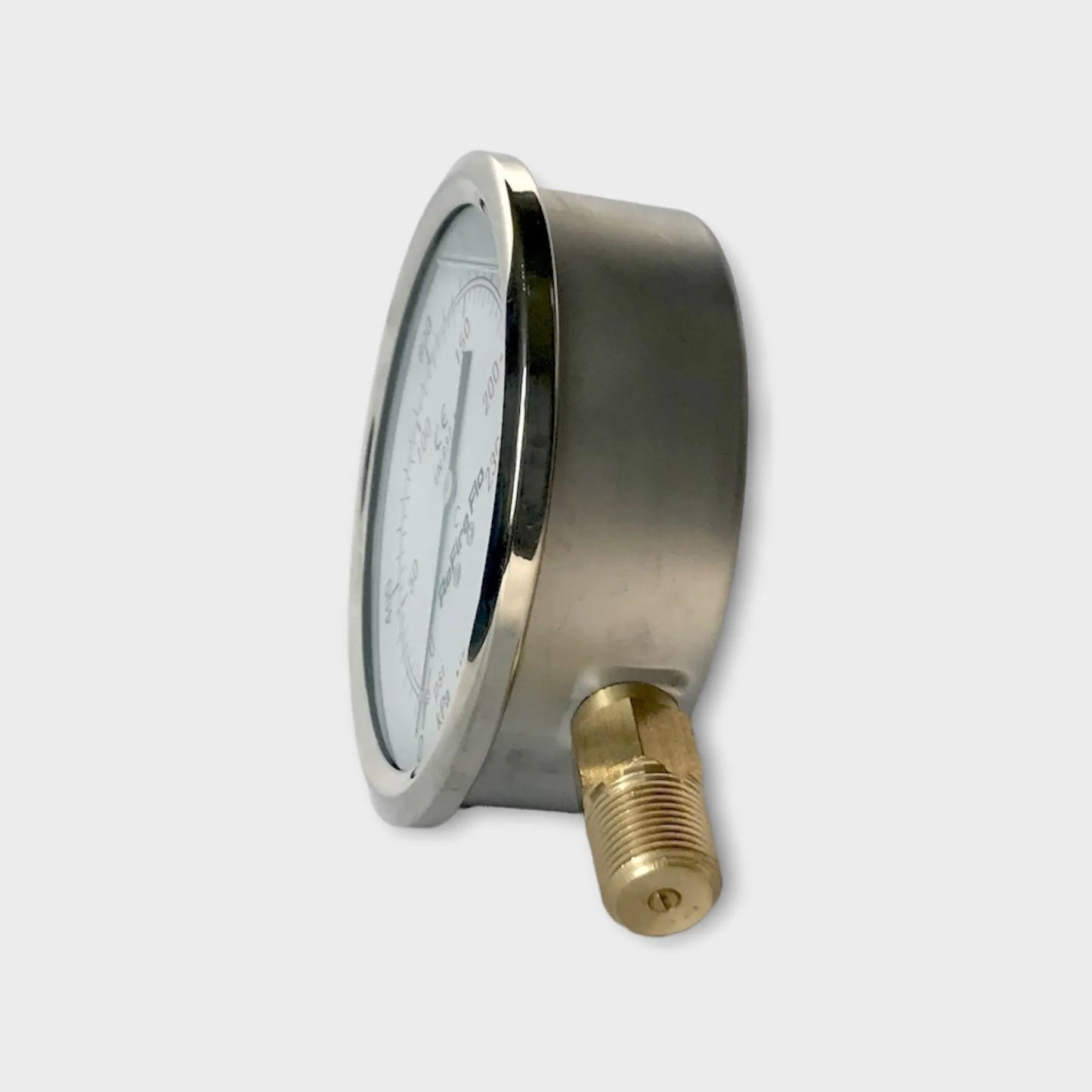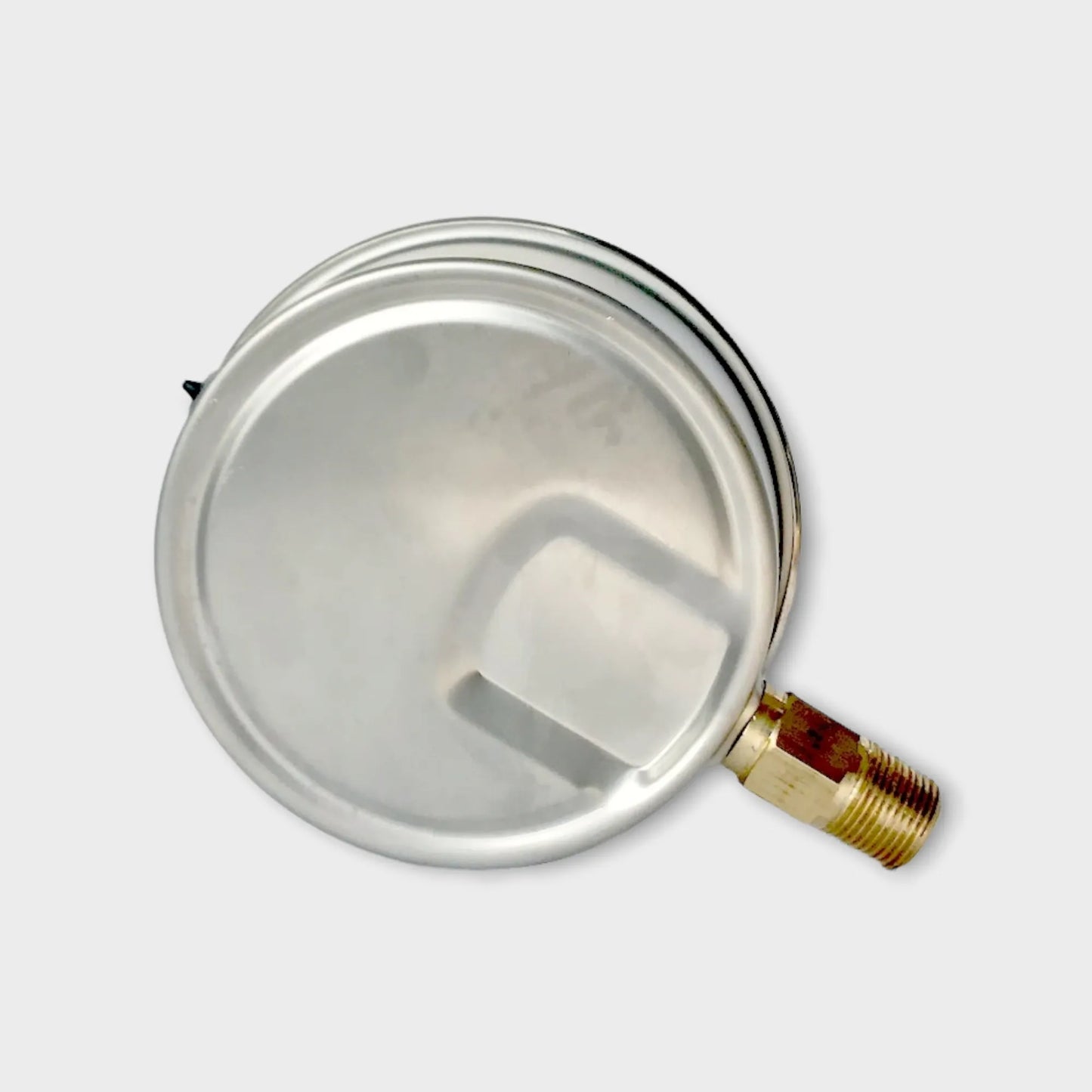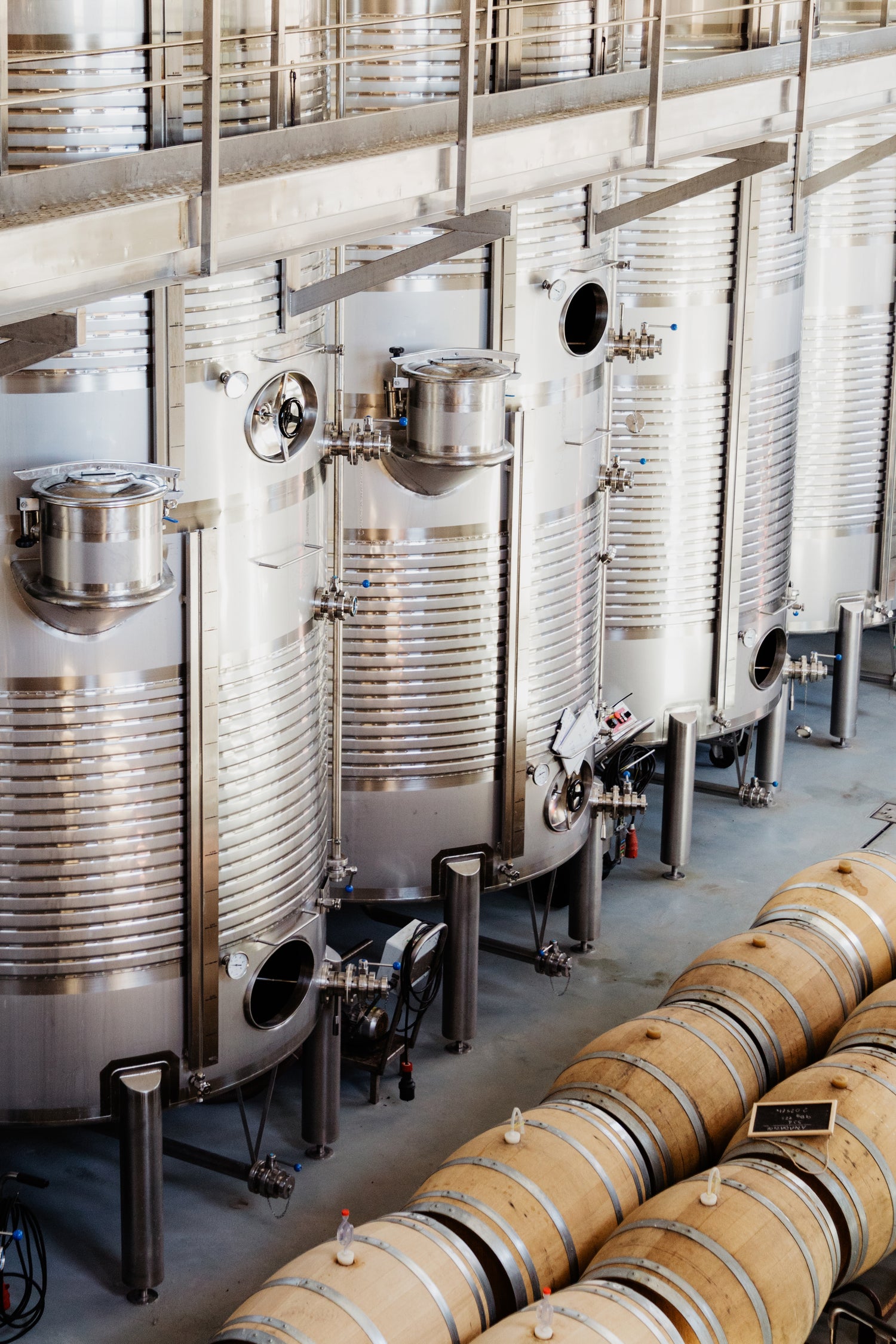 Applications
Hygienic pressure measurement in sanitary applications for the pharmaceutical, biotechnology, food and beverage industries
Mechanical pressure display on pipelines, fermenters, bioreactors and vessels
Pressure/vacuum monitoring during cleaning, sterilisation, pressure testing
For gases, compressed air, vapour; liquid, pasty, powdery and crystallising media
Special features

Safety via mechanical pressure transmission

Case and wetted parts in hygienic design

Suitable for SIP and CIP, autoclavable version available

Easy zero point setting

High overload safety

Payment & Shipping Terms

MOQ: 100 Pieces

Price: To be confirmed

Delivery Time: 3~5 weeks

Payment Term: T/T