Introducing the Precision-Crafted Pressure Gauge with Bar Scale and Lower Mount, Forged from Full Stainless Steel Material:
Elevate your pressure measurement capabilities with our meticulously engineered Pressure Gauge, meticulously designed to meet the highest standards of accuracy and durability. Crafted entirely from stainless steel, this gauge is the epitome of reliability and performance.
Key Features:
1. Full Stainless Steel Construction: Our pressure gauge is constructed entirely from premium stainless steel, ensuring exceptional resistance to corrosion, wear, and extreme environmental conditions. This robust construction makes it an ideal choice for a wide range of applications, including those in harsh or corrosive environments.
2. Precise Bar Scale: The clear and easy-to-read bar scale offers precise pressure readings, allowing you to monitor and control pressures with utmost accuracy. The scale is designed to be user-friendly and to provide quick, real-time pressure assessments.
3. Lower Mount Design: The lower mount configuration of this pressure gauge enables easy and secure installation. It ensures optimal stability and connection, making it an excellent choice for a variety of industrial and mechanical systems.
4. Professional-Grade Accuracy: Our pressure gauge has been rigorously calibrated to deliver industry-leading accuracy. You can trust it to provide dependable pressure measurements for your critical applications.
5. Versatile Applications: Whether you are working in the manufacturing industry, laboratory settings, or any field that relies on precision pressure monitoring, our Pressure Gauge with Bar Scale is your trusted partner. It is suitable for a wide array of applications and is designed to withstand the rigors of demanding environments.
6. Long-lasting Durability: The full stainless steel construction and quality craftsmanship ensure that this pressure gauge is built to last. It will continue to perform reliably, even in the most demanding conditions, offering an extended service life.
Elevate your pressure measurement capabilities and experience the difference that precision and quality can make. Choose our Pressure Gauge with Bar Scale and Lower Mount, crafted from full stainless steel material, and gain peace of mind in your pressure monitoring needs.
Upgrade to the professional standard of pressure measurement – order your Pressure Gauge today!
Dial Size
63mm

Case material

Stainless steel

Wetted parts

Stainless steel

Mount

Lower
Connection

1/8 1/4 PT, NPT, G... M14*1.5

Liquid

Glycerin, Silicone oil, None

Custom options

Pressure range
Dial plate
Other process connection thread
Surface mounting flange
Mounting bracket
Share
View full details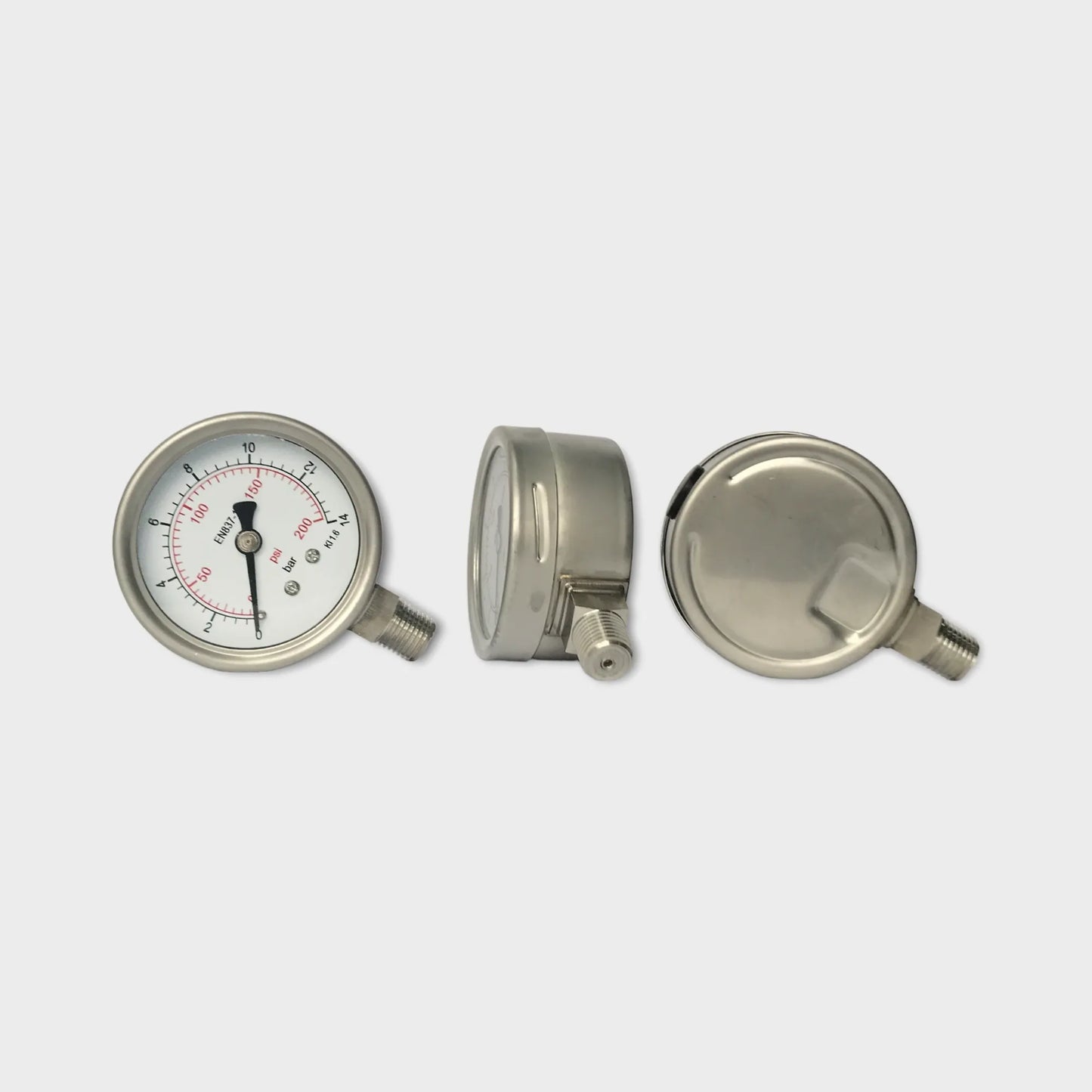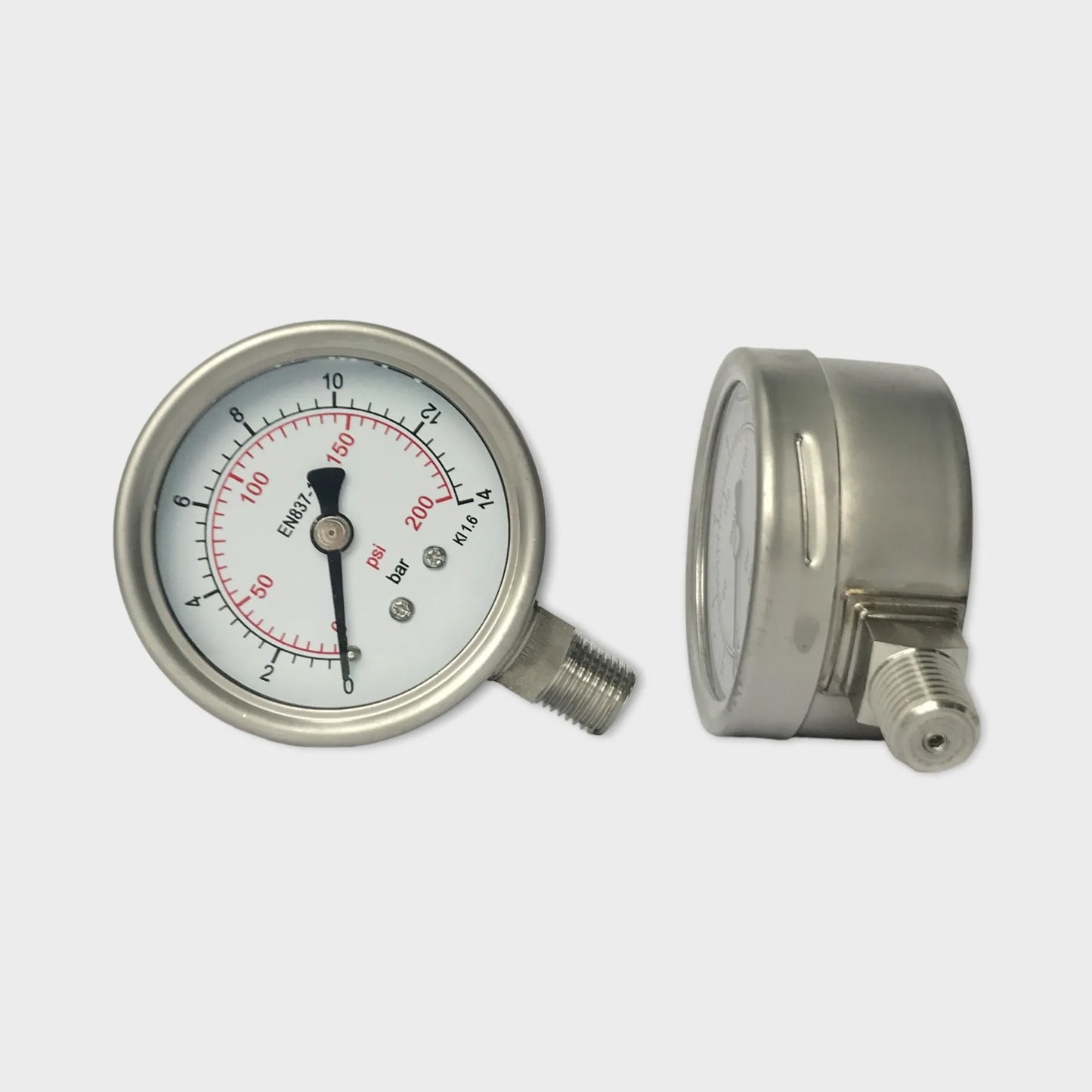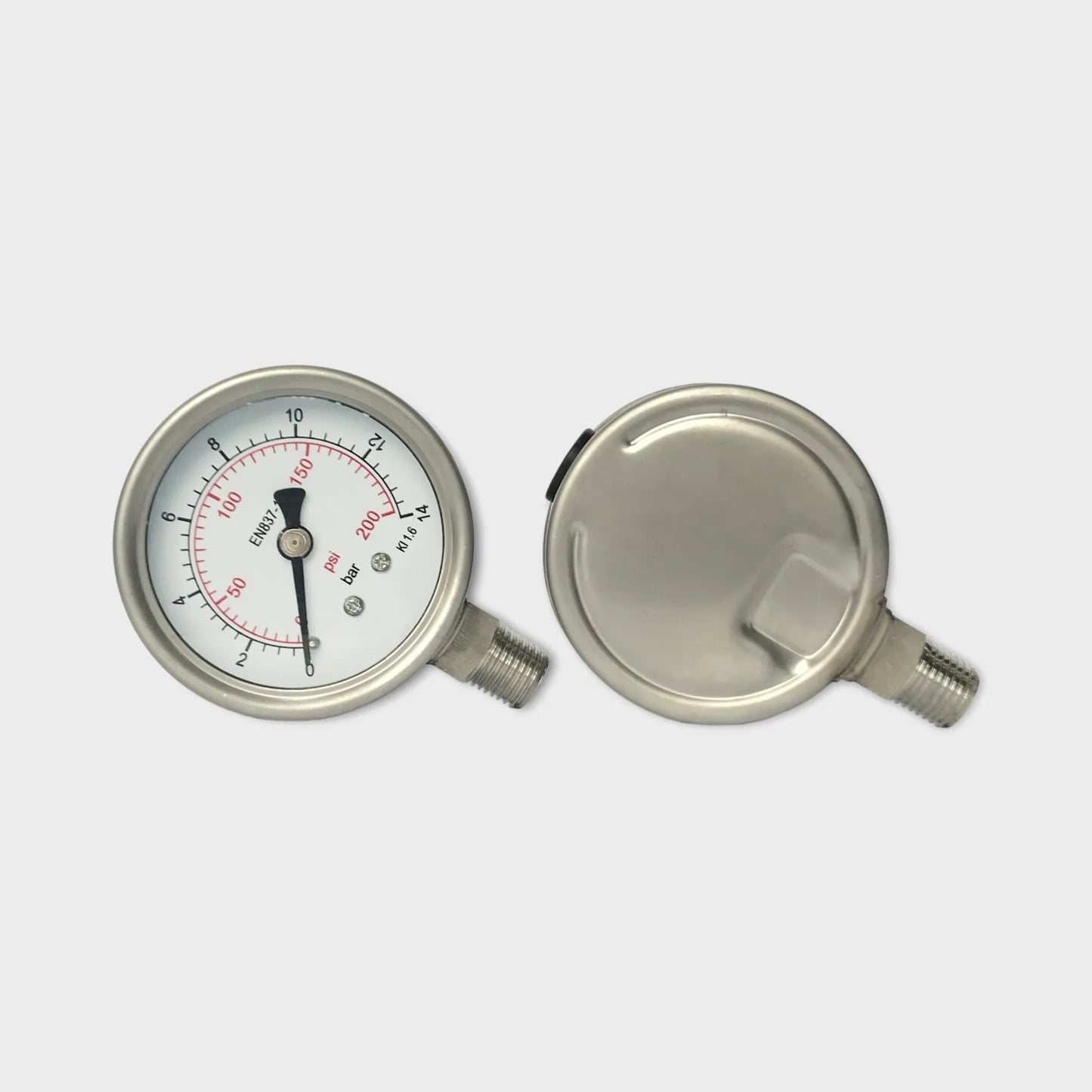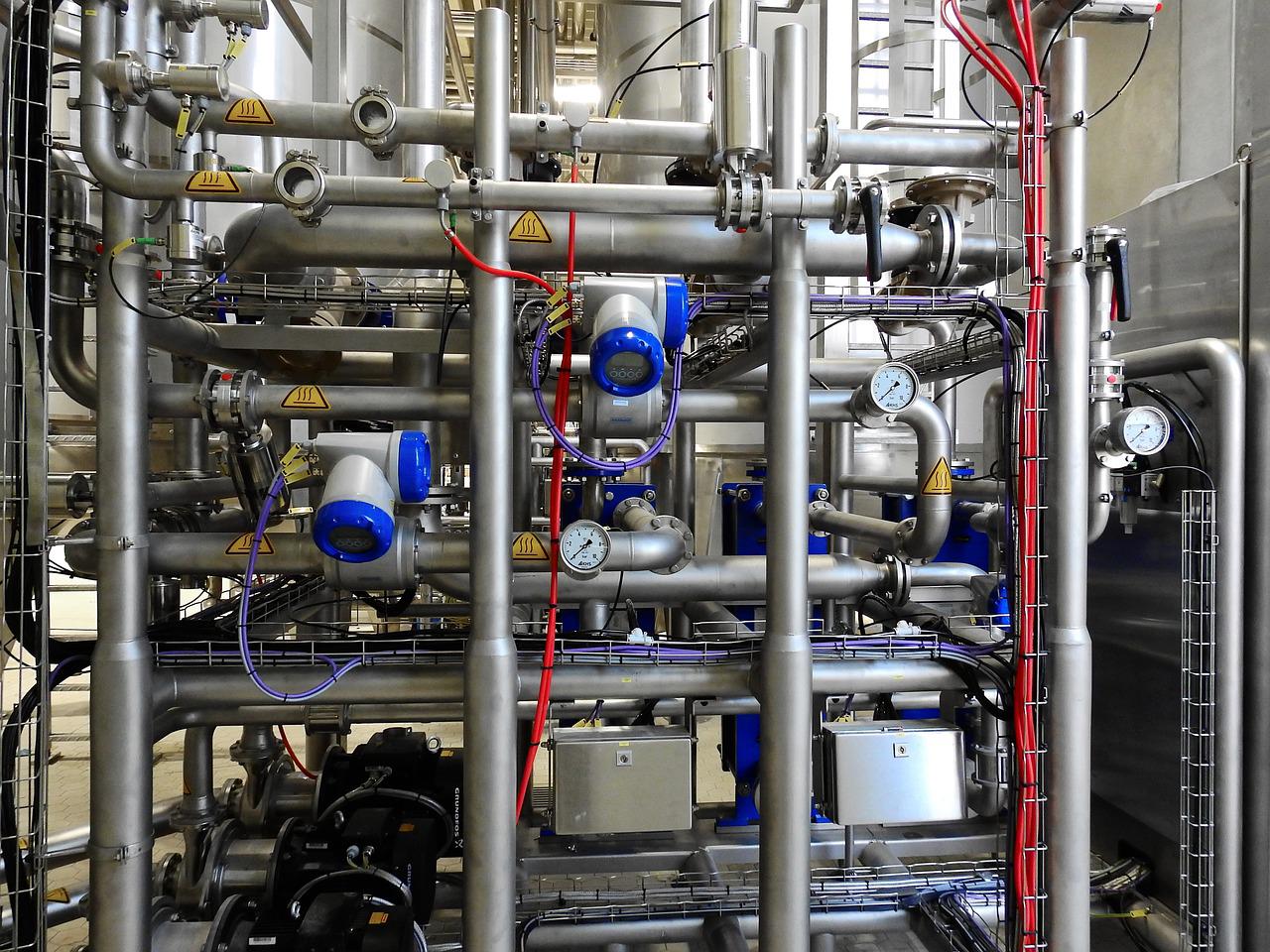 Applications
For aggressive gaseous and liquid media that are not highly crystallising, also operates in aggressive environments
Oil and gas industry, chemical and petrochemical industry, pumbling and HVAC, hydraulics and pneumatics
Machine building and general plant construction
Special features

Excellent load cycle stability and shock resistance

Design per EN 837-1

Completely from stainless steel

Scale ranges up to 0 ... 1600 bar

Payment & Shipping Terms

MOQ: 100 Pieces

Price: To be confirmed

Delivery Time: 3~5 weeks

Payment Term: T/T