Introducing the Stainless Steel Pressure Gauge with mbar Scale: Unparalleled Precision, Easy Maintenance
Experience precision and reliability like never before with our Stainless Steel Pressure Gauge, meticulously engineered for precision and designed for effortless maintenance. Crafted from premium stainless steel, this gauge boasts a user-friendly mbar scale and a design that simplifies upkeep, making it the ideal choice for a wide range of applications.
Key Features:
1. Stainless Steel Durability: Crafted from high-grade stainless steel, this pressure gauge is engineered to endure even the harshest conditions. Its exceptional corrosion resistance and robust construction ensure a prolonged service life.
2. mbar Scale for Precision: The clearly marked mbar scale offers precise pressure readings, enabling you to monitor and control pressures with impeccable accuracy. The scale's user-friendly design ensures that you can quickly and effortlessly interpret pressure values.
3. Easy Maintenance: Designed with convenience in mind, our Stainless Steel Pressure Gauge simplifies maintenance. With easy access to internal components, routine upkeep is a breeze, minimizing downtime and ensuring consistent performance.
4. Professional-Grade Accuracy: Rigorously calibrated for unparalleled precision, you can rely on this pressure gauge for critical pressure measurements in various applications.
5. Versatile Applications: Whether you are in the industrial, laboratory, or any other sector that demands precision pressure monitoring, our Stainless Steel Pressure Gauge is the dependable choice. It is suitable for a wide array of applications and is built to withstand the rigors of demanding environments.
6. Extended Service Life: The stainless steel construction and thoughtful design combine to ensure a long and reliable service life, minimizing the need for replacements and enhancing cost-efficiency.
Elevate your pressure measurement capabilities with our Stainless Steel Pressure Gauge featuring an mbar scale. Experience the difference that precision, durability, and easy maintenance make in your pressure monitoring.
Upgrade to the professional standard of pressure measurement – choose our Stainless Steel Pressure Gauge with mbar Scale and ensure that your pressure readings are consistently accurate and reliable.
Invest in your pressure monitoring needs today, and enjoy the peace of mind that comes with unmatched precision and straightforward maintenance.
Dial Size
100mm

Case material

Stainless steel

Wetted parts

Stainless steel

Mount

Lower
Connection

1/2 PT, NPT, G... M20*1.5

Custom options

Pressure range
Dial plate
Other process connection thread
Surface mounting flange
Mounting bracket
Share
View full details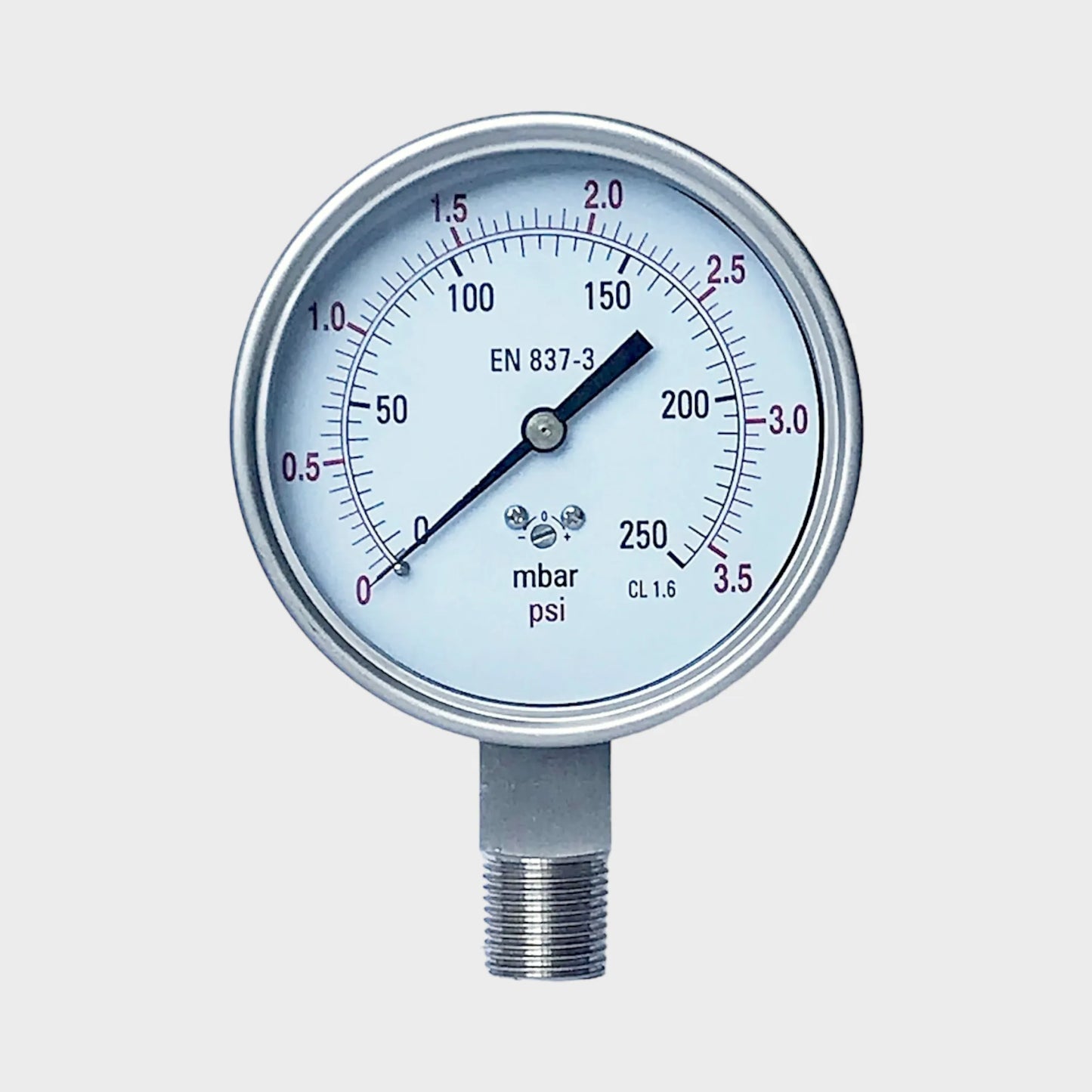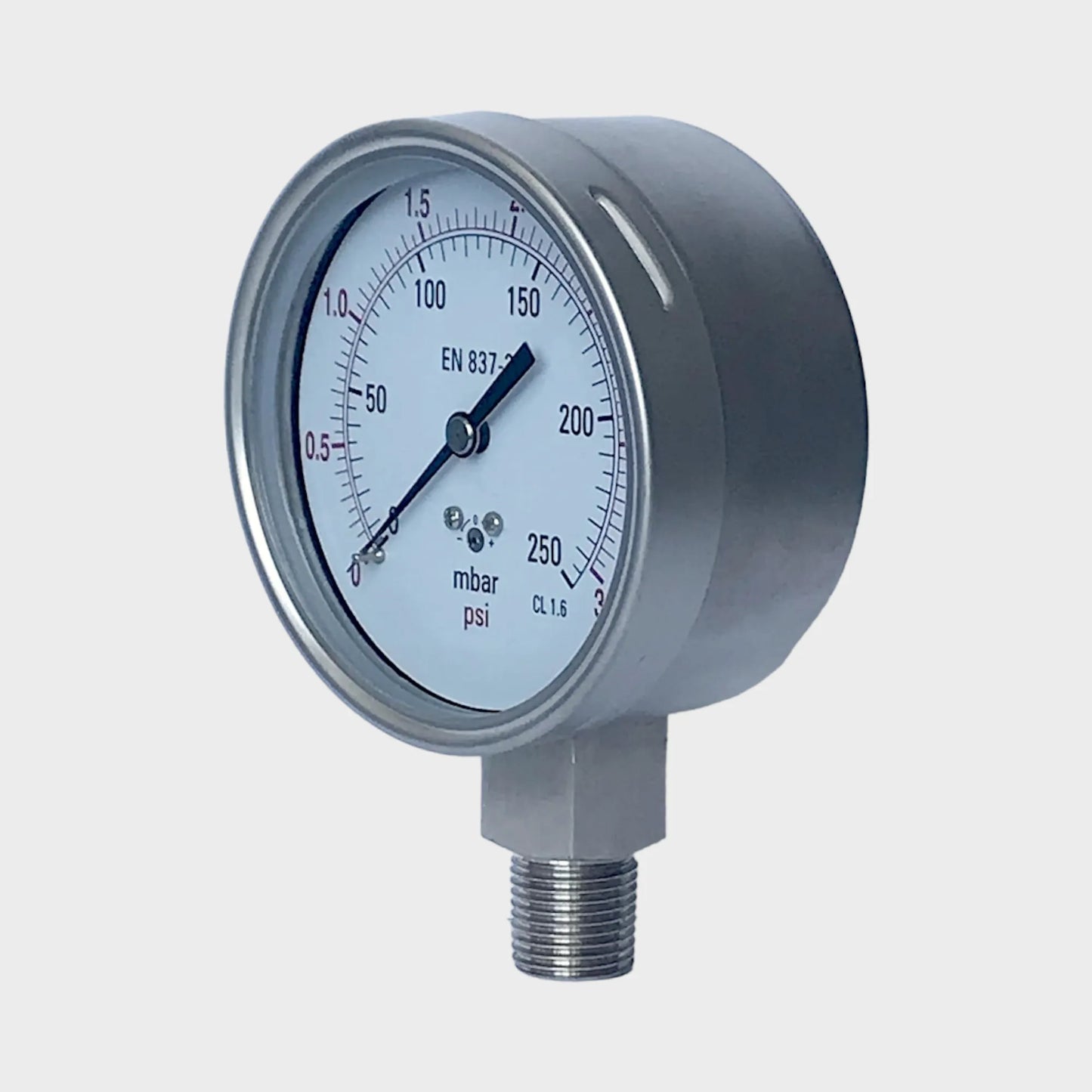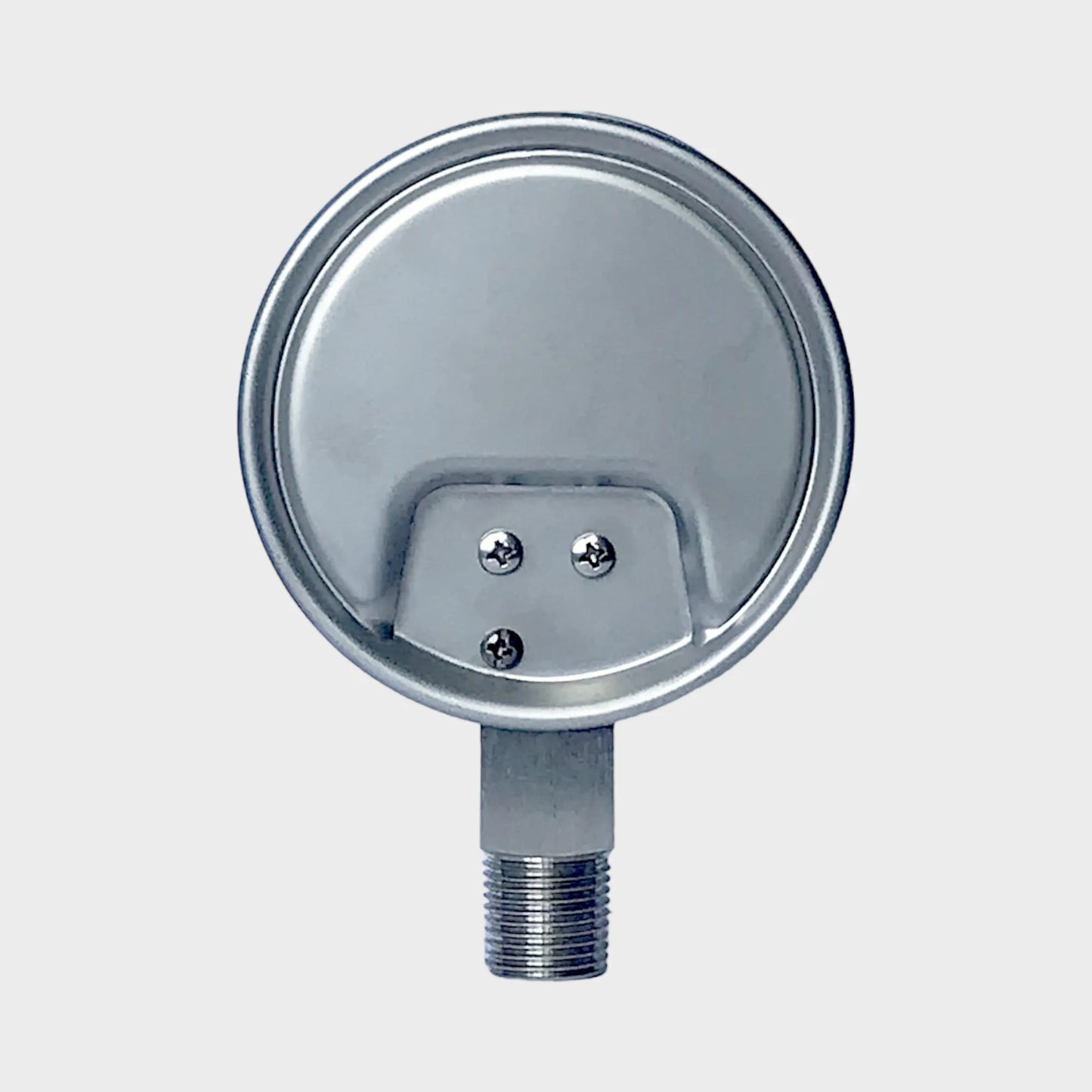 Applications
Low pressure gauge for applications in a controlled environment
Low pressure pneumatic systems
Ideal for measuring pressure, vacuum in medical, environmental, and laboratory applications for content and filter monitoring
For gaseous, dry and non-aggresive media
Special features

Front zero adjustment

Special connections on request

Scale ranges from 0/10 InWC (25 mbar)

Payment & Shipping Terms

MOQ: 100 Pieces

Price: To be confirmed

Delivery Time: 3~5 weeks

Payment Term: T/T