Case Diameter
100mm
Scale Range
-1 to 9 bar

 (customizable)

Accuracy

a) At 20°C: Class 1.0 or 1.5
b) -40°C to +60°C: Class 2.5
(related to the measuring span; SF6 in gas phase)


Degree of Protection

IP65
Ambient Conditions

-40°C to +60°C, relative humidity≤95%RH

Leakage Rate

≤1 × 10-9 Pa·m3/s (Helium leakage inspection)

Process Connection
M20*1.5, Customizable

Installation Method

Radial or Axial

Electrical Connection

Plug-in connection M20 × 1.5 sealing head

Cable Size:

1.5mm2 recommended, 2.5mm2 maximum

Insulation Resistance

>100 MW (DC 500V)

Withstand Voltage

2kV, 50/60 Hz 1 min

Contact Type

Magnetic snap-action switch
80%Ag, 20%Ni, 10µm Au plated


Impact Rating

50g (oil-filled), 30g (non-oil-filled)




Contact Electrical Parameters

30W/50VA, 1A (maximum)
220VDC/380V 50/60Hz (maximum)


Pressure Element

Bourdon tube imported from Europe

Window Glass

Laminated safety glass

Weight

1 kg

Options
Oil-filled
Full Range Indication: Class 1.0
Power-frequency withstand voltage: 2.5kV 50/60 Hz 1min
Wide temperature range -60°C to +60°C
Can detect SF6, Air, N2, SF6 + N2 and other gases
Share
View full details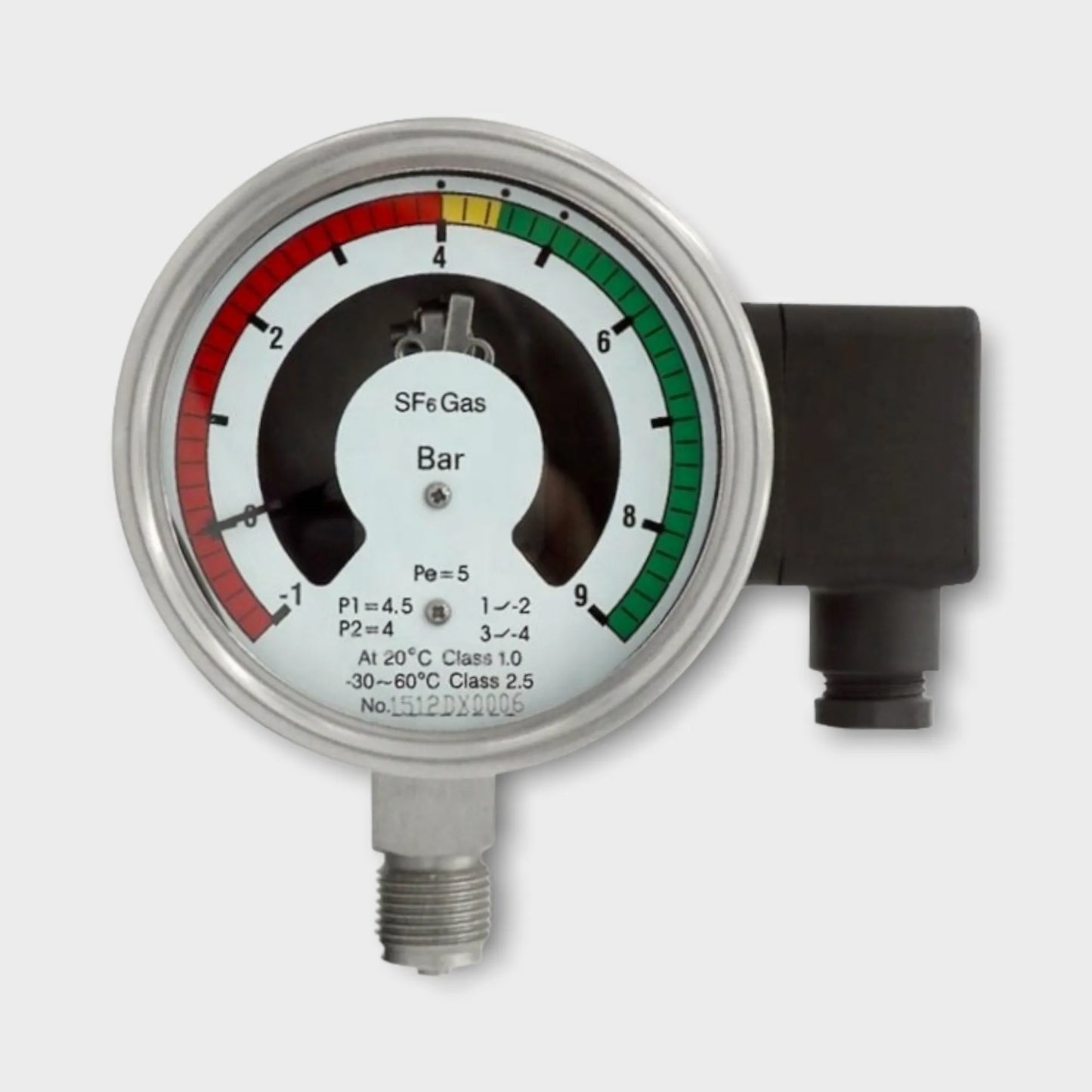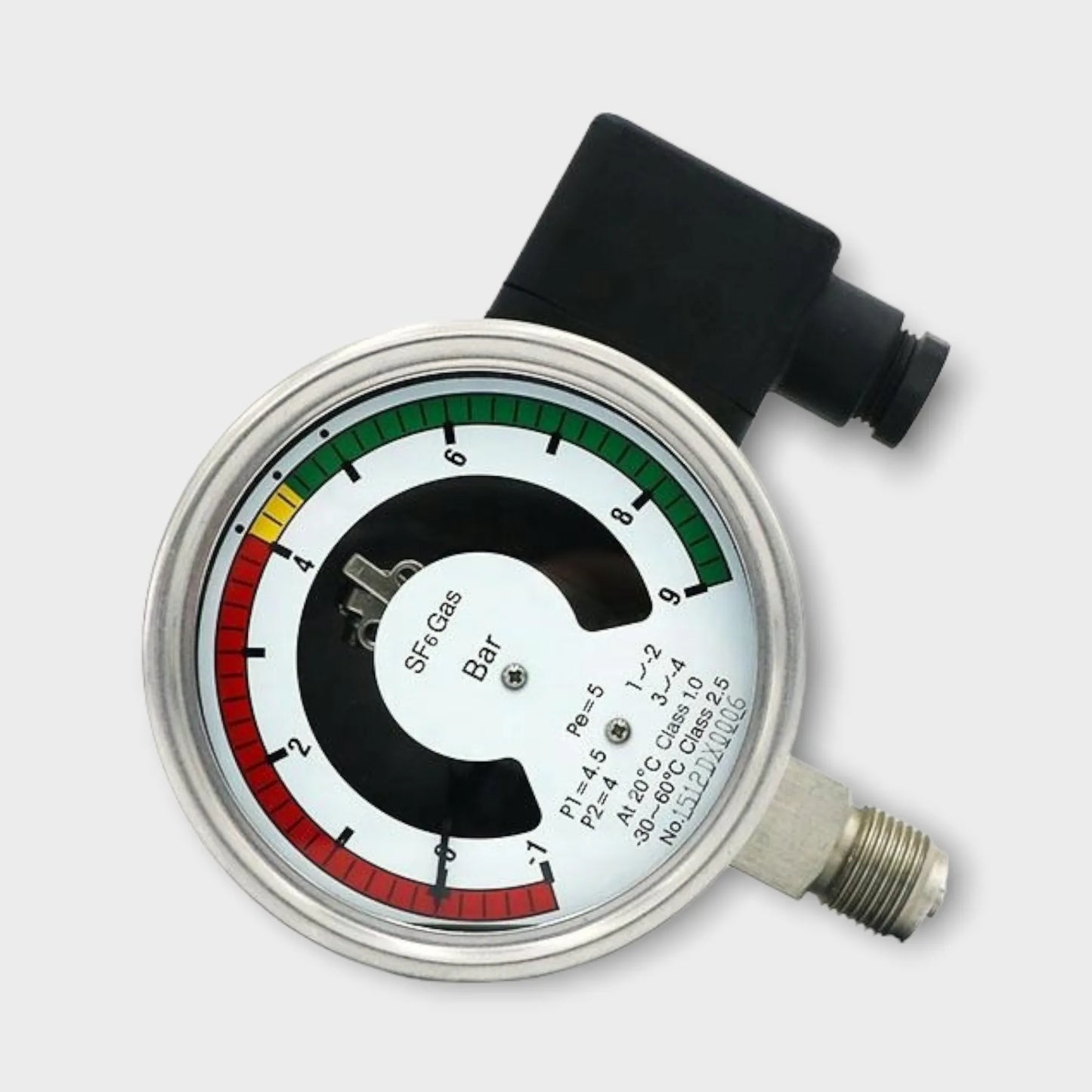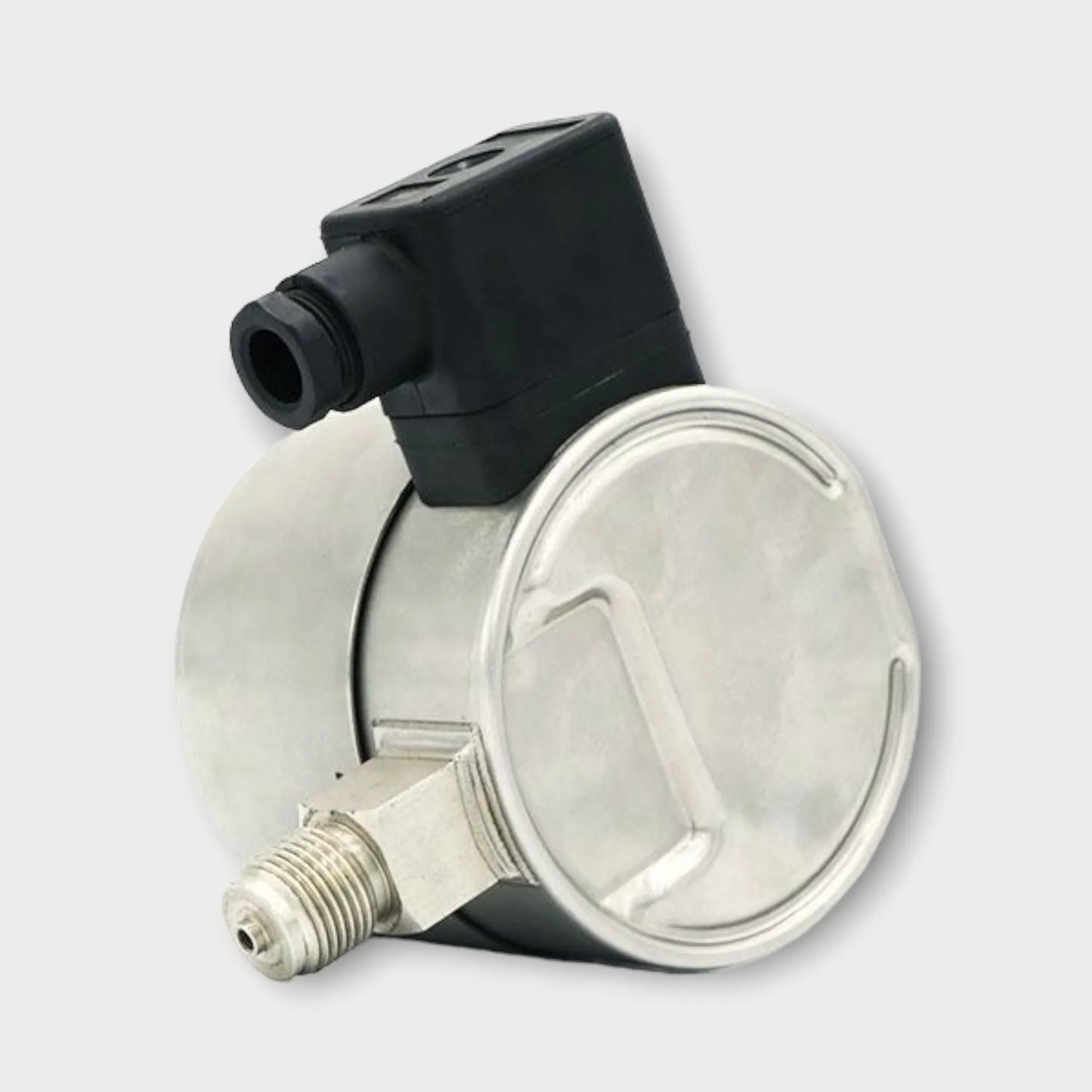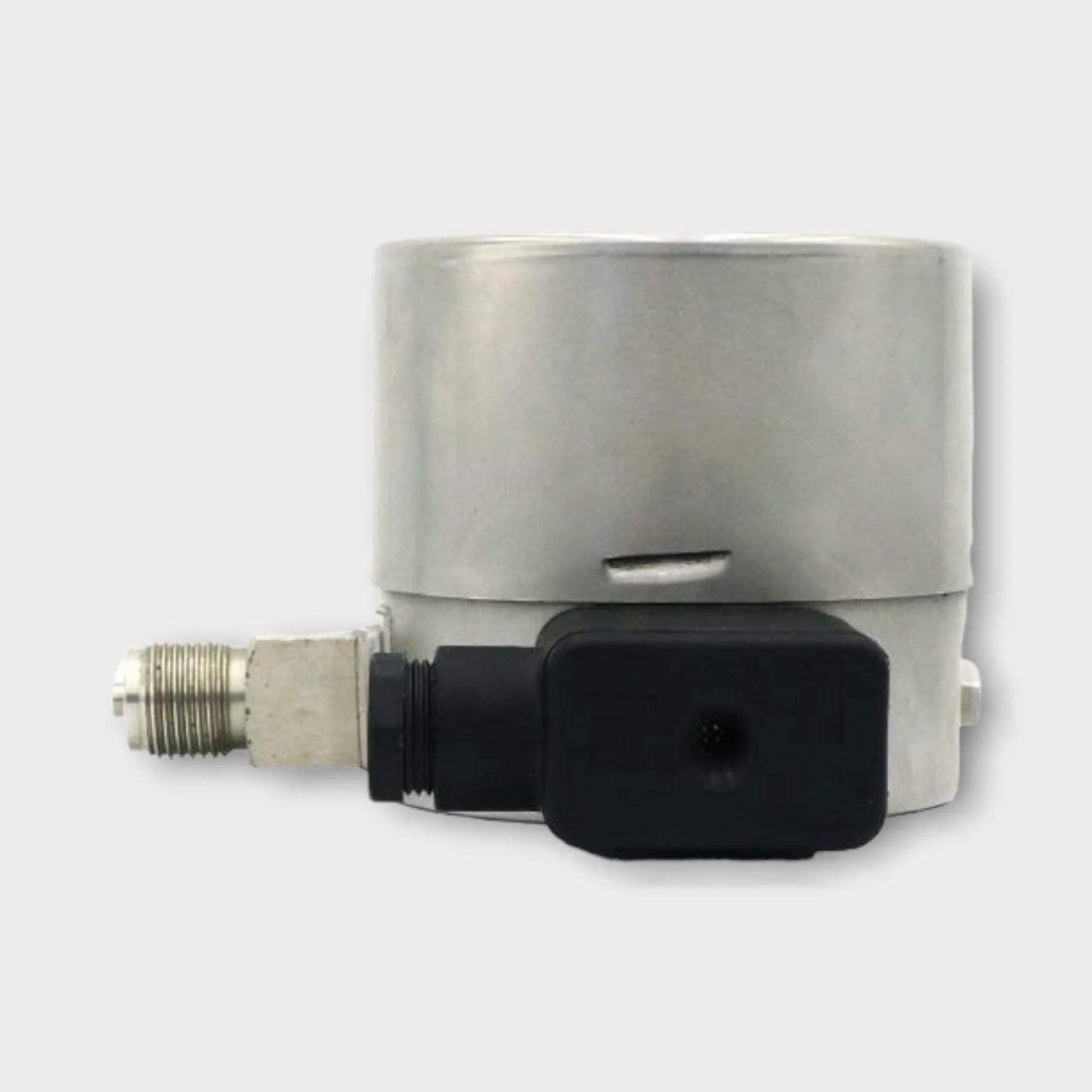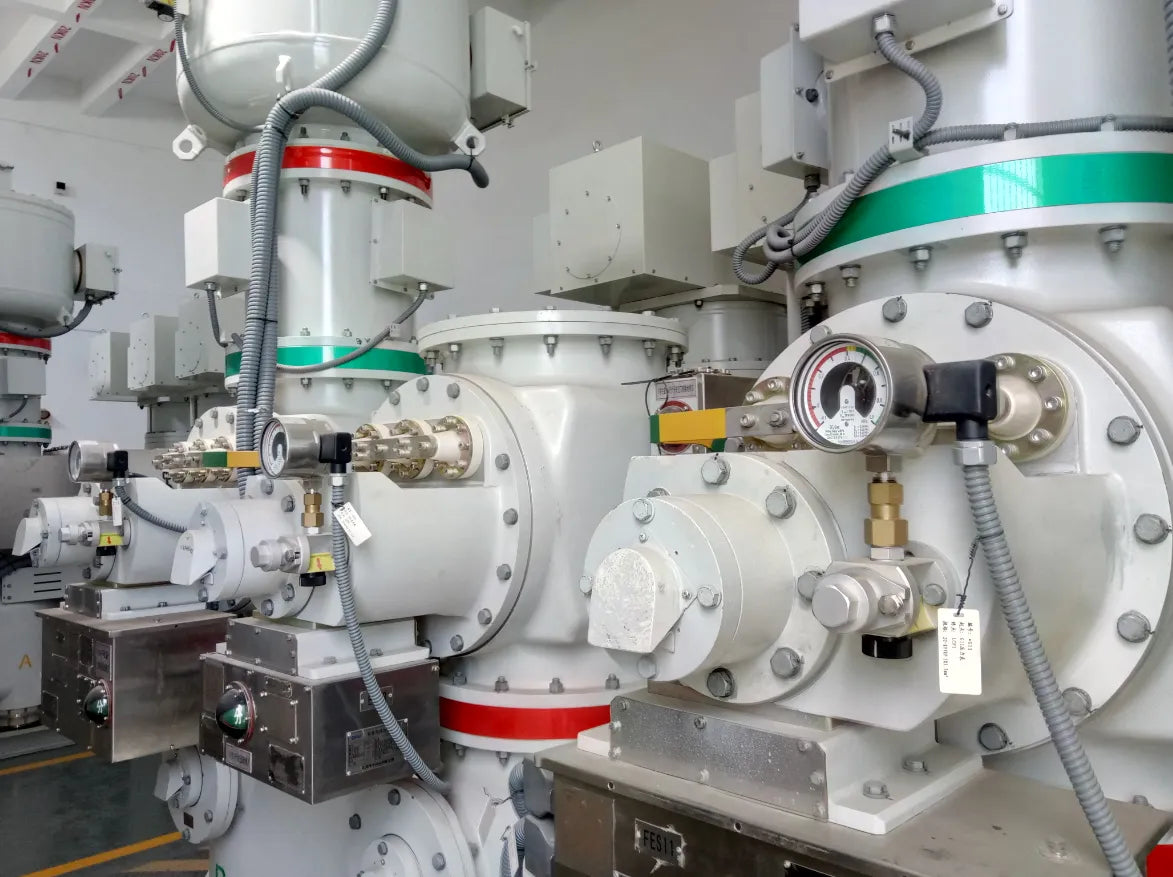 Applications Of SF6 Gas Density Monitor / Relay
SF6 Gas Insulated Switchgear (GIS)
SF6 Insulated Circuit Breakers
SF6 Insulated Pole-Mounted Switch
SF6 Insulated Transformers
SF6 Insulated Mutual Inductor
SF6 Insulated Busbar Systems
Features of SF6 Gas Density Monitor / Relay
The temperature compensation unit ensures greater accuracy of instrumentation pressure measurement.
Suitable for installation indoor or outdoor.
Hermetically sealed case of stainless steel AISI 304.
AISI 316 stainless steel gas connexion tubes.
The value on site and the output signals are not affected by the external environment (e.g. altitude factor).
Electric contact switch design ensures the accurate and stable gas monitoring system which monitors SF6 gas density.
Up to four gas density switch contacts can achieve overpressure alarm, dual alarm or double lock, and many other solutions to secure and reliable monitoring.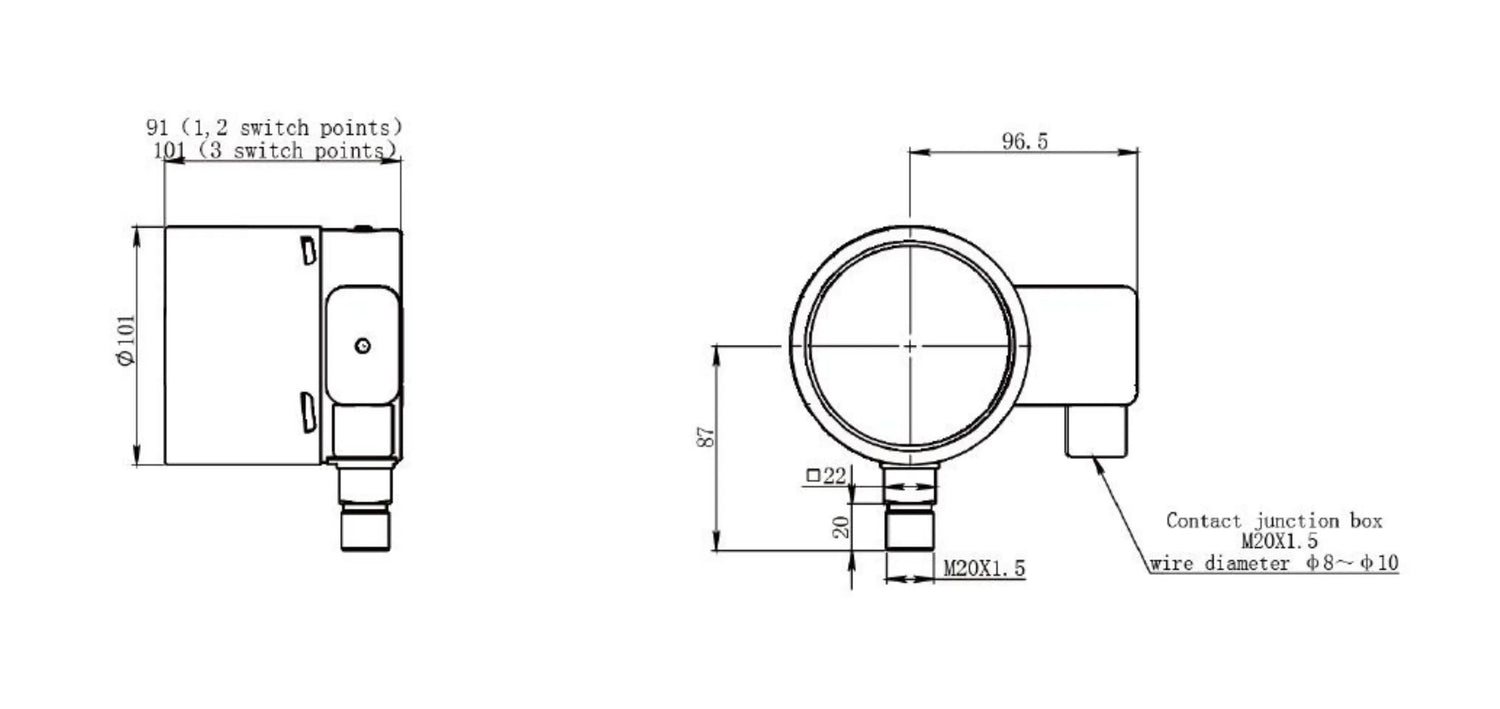 Dimension
Drawing of WR-100 SF6 Gas Density Monitor / Relay